We are pleased to announce the 56th VIEW National Convention will be held in Hobart, TAS from 8-10 September 2023.
National Convention is conducted over 3 days, Friday to Sunday, and provides VIEW members, their friends and others interested in attending with:
An opportunity to hear from prominent speakers on a broad range of topics;
A forum for debating issues of national importance;
An ability to hear about the achievements of VIEW and their work within communities.
An opportunity for members to celebrate their contribution to supporting the education of disadvantaged Australian children
Plus much, much more……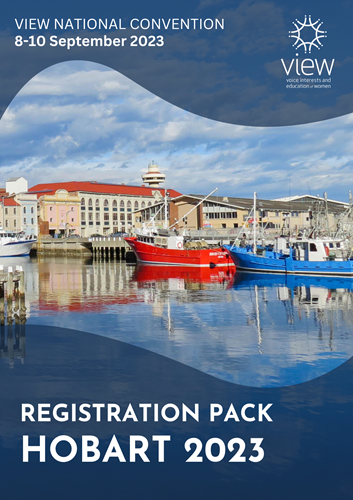 Convention registrations are to be booked through OzAccom+. A registration fee of $25.00 for members and non-members is applicable for every registration, regardless of the number of events attended.
All members and non-members must submit their Registration Form to OzAccom+, not VIEW National Office.
Clubs may choose to book together or members may book individually, as long as there is a unique registration form for each attendee. Club Booking Coordinators are advised to photocopy all information for each member registering, and send a club cheque along with Club Registrations to OzAccom+.
Keep copies of your registration documents, for your own records. If putting through a club booking.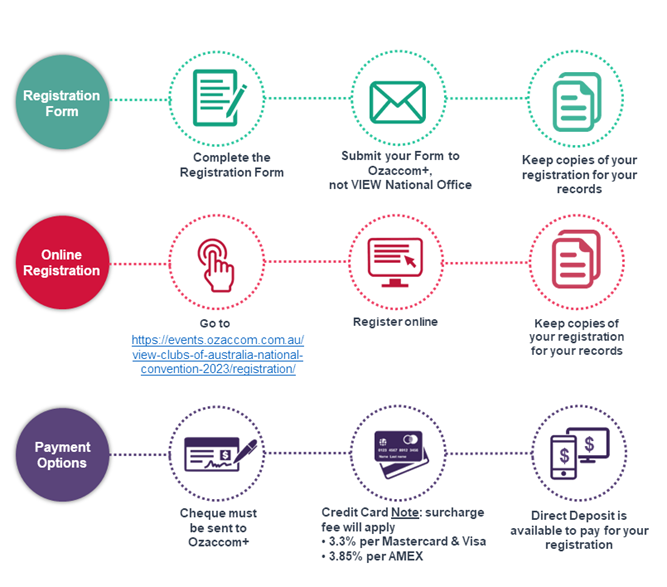 Registrations close at 12.00 noon Wednesday 16 August 2023. Final bookings and payments must be made by this time.
Cancellations received before Wednesday 16 August 2023
Cancellations received before Wednesday 16 August 2023 – please note a $25 registration fee will be charged for all cancellations initiated by you the delegate, notified in writing before Wednesday 16 August 2023. The balance of monies paid by you will be refunded directly to you.
Cancellations received after Wednesday 16 August 2023
If you cancel after Wednesday 16 August 2023 this will result in all monies paid by you being forfeited, including the $25 registration fee. In the event of late cancellation by you, tickets may be on sold by the attendee to another attendee however, this will incur a $25 Administration Fee (name change) and Ozaccom+ MUST be notified PRIOR to Monday 28 August 2023.
Any cancellations received AFTER Wednesday 16 August 2023 will result in all monies being forfeited.
All cancellations, refund requests, name changes must be submitted in writing to Ozaccom+ not VIEW National Office.
Volunteering at Convention
To ensure all National Convention events are a success we still need your assistance as volunteers to help with
Packing Delegate Satchels
Help with Convention Registration
Check guests have valid entry (wristbands)
Help members to seats, when necessary
Sell Merchandise/Raffle Tickets (if required)
Please consider volunteering your time at at an event during National Convention. We encourage you to ask your fellow VIEW members with you to ensure we have a successful Convention.
Your assistance is greatly appreciated and we look forward to seeing you at Convention 2023 in Hobart.
Please complete this Volunteer Application Form.