2019 International Women's Day Kooyong
Report on 2019 Victorian International Women's Day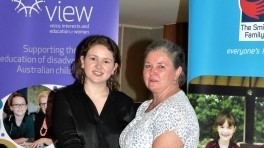 Report on 2019 Victorian International Women's Day
On 7th March 143 VIEW members and guests attended the Kooyong Tennis Centre to celebrate International Women's Day and hear how we can ≠Balance for Better. Some of the guests had travelled from Wodonga and Bendigo.

National Vice President Annette Schlafrig delivered the Executive address. The speech outlined the ongoing campaign for gender parity and the role VIEW plays in being part of women's alliances that seek to improve economic well being for women. VIEW members were urged to add their voice through the Resolution process.

Anton Leschen, the General Manager Victoria of The Smith Family told the audience of the wonderful contribution that Victorian VIEW clubs have contributed to The Smith Family and commended our continued commitment and enthusiasm to assist disadvantaged Australian children.

Key note speaker was Past Speaker of the House Anna Burke AO, who enthralled the audience with her journey as a young politician and mother. Anna Burke was a member of the House of Representatives from 1998 to 2016 and witnessed many changes in the challenges faced by women in Parliament. Anna Burke is currently a member of the Administrative Appeals Tribunal, which mainly deals with decisions on deportations.

Learning for Life student Cree outlined her journey through the LfL program. Cree was sponsored by a VIEW club and Cree spoke of the impact the regular correspondence and gifts from her VIEW club gave her, 'it was like having a second family that cared about you and was interested in your life and career'.

Victorian IWD was a day filled with inspirational speakers and all VIEW members were encouraged to take the messages of this day back to their clubs.