2020 Victorian International Women's Day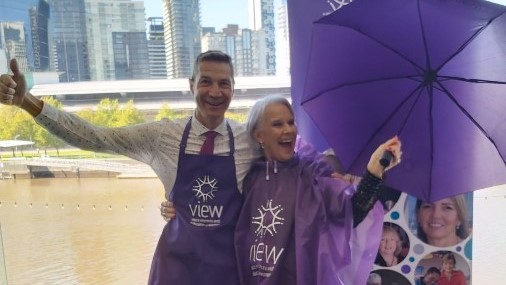 The Victorian IWD Committee- Sandi Muntisov, Marg Hayes, Jenny Laught and Janeece McPherson were very happy with the great success of the Victorian IWD lunch held on Thursday 12th March. It was a sell out event with 200 in attendance from 18 Victorian VIEW clubs as well as a member form a WA View club. It was an amazing day.
NVP Beryl Pike, LFL student Emily, TSF Vic General Manager Anton Leschen and Sandi Muntisov Vic IWD committee happily pose for a photo. Tertiary LFL student Emily's story of her involvement with TSF and her LFL journey was truly the wonderful highlight of Victorian IWD Lunch. Her story reinforces why VIEW clubs work really hard fundraising to enable the sponsorship of LFL students.
Anton Leschen- TSF Vic General Manager and Marg Woodhouse NCVC ham it up with VIEW Merchandise. After speaking at the Vic IWD event, Anton was presented with his VIEW apron by Marg. She got him to model it whilst she modelled the new VIEW poncho and VIEW umbrella. Perhaps it is the winning photo for the VIEW poncho competition.