Australian children experiencing disadvantage need your help this Christmas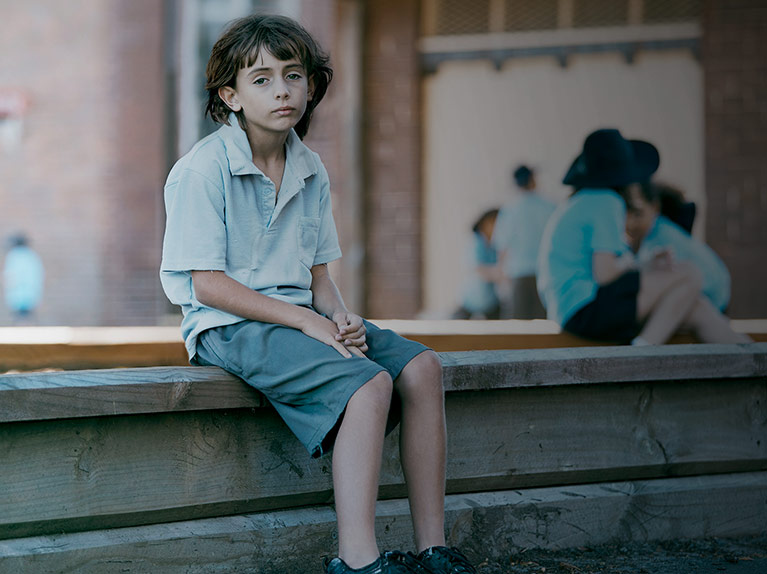 Zack no longer thinks his life can be better
After all the challenges he's faced this year, Zack no longer sees the point of trying. You can give children living in disadvantage the additional learning support they need to believe in a better future – and go on to build one for themselves.
Life has always been tough for Zack1, even before the pandemic hit. His mum, a single parent, has a long-term illness and can only work part-time. She does everything she can to keep a roof over their heads, but she struggles to afford even the absolute necessities, like food and clothes.
At just eight years old, Zack does all he can to look after his mum and little sister. He worries about his mum's illness and does his best to try to care for her.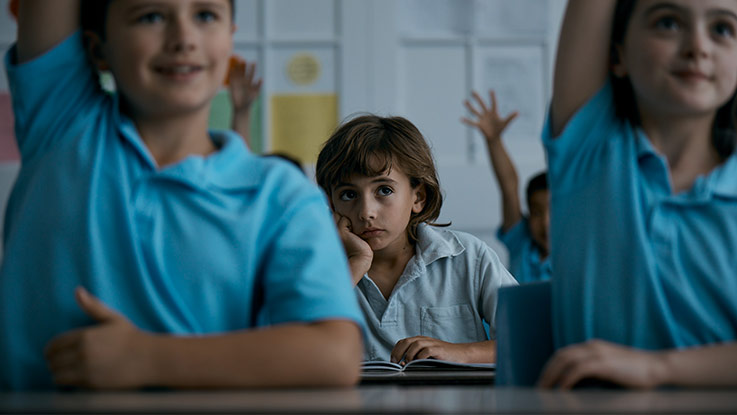 I'm no good at school. I never was, and now I never will be. What's the point of even trying?
This leaves Zack with little time or energy for homework. He's always tried very hard with his school work– but even his best hasn't stopped him from falling behind in school.
Now, after all the extra challenges he's faced this year, Zack no longer believes he'll ever be good at school – or that there's any point in trying any more.
But you can help change that by making a much-needed gift today.
This year has been so hard on children like Zack
Zack already had so much to cope with – and the effects of the COVID-19 pandemic have made everything much more difficult.

Like many hardworking Australians, Zack's mum lost her casual shifts at work when the pandemic struck. With money tighter than ever before, she couldn't afford the tools Zack needed for remote learning while his school was closed earlier this year.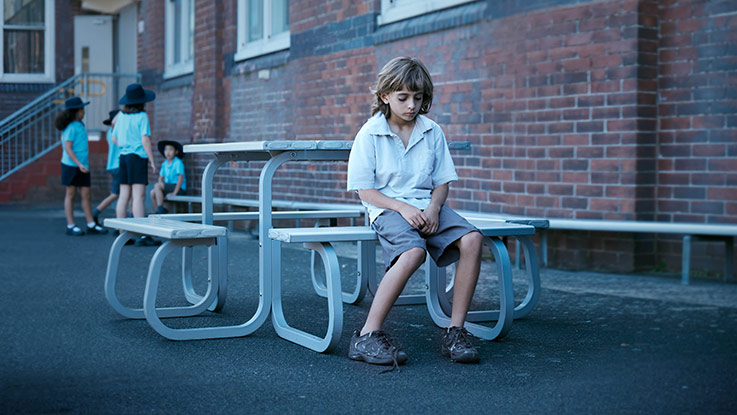 Zack shared an old laptop with his sister but had no internet or even a quiet place to study. Even then, most of the time their mum was too ill to help Zack with the work that was sent home from school.
Now all Zack sees is things going from bad to worse. He's helping his sister more and more so his mum can rest, and has no time or energy to do his homework. His life gets harder as money gets tighter and he falls further behind his classmates no matter how hard he tries.
Zack needs your help before it's too late.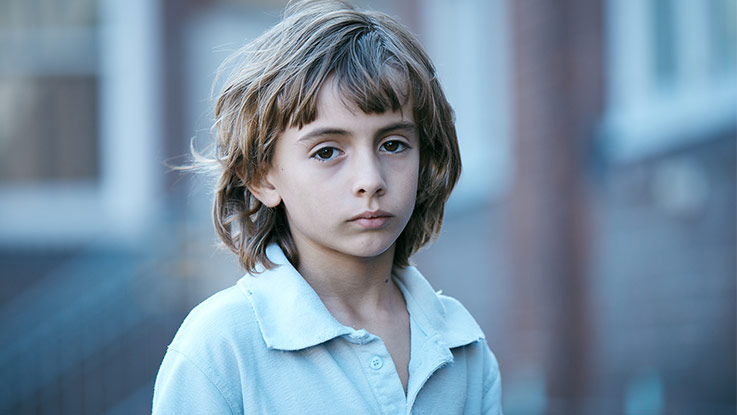 Zack is one of the 1 in 6 Australian children who are living in poverty right now, through no fault of their own2.
Research shows that remote learning during the pandemic is likely to have been more detrimental for children like Zack than for their more advantaged peers. According to the 2020 Grattan Institute survey, teachers estimate that disadvantaged children learned just 25-50% of what they'd normally learn in class, compared to 50-75% for children not living in poverty3.

As hard as it was to learn at home, going back to the classroom in the second half of the year was even harder for Zack, who had fallen further behind than ever before. He thinks he can never catch up now, no matter what he does.
After the disruptions caused by COVID-19, the learning gap now seems impossible to bridge for children like Zack. And the challenges these children face mean that learning will just keep getting harder, especially as online learning and educational apps become more and more important to their learning.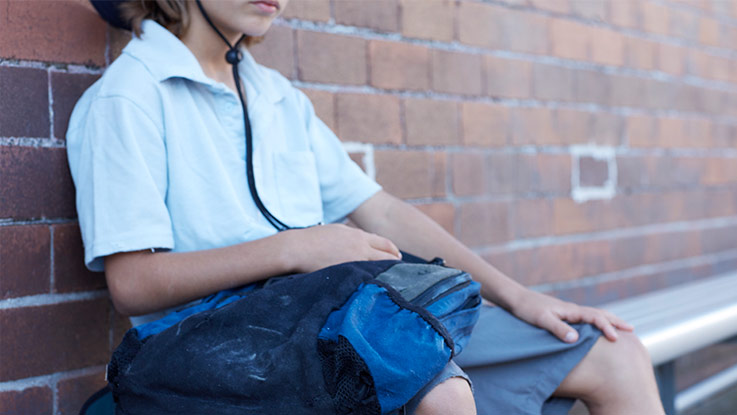 If I don't say anything in class, no one will laugh at me.
Unless they get the additional out-of-school support they need, children like Zack may give up on their education before completing Year 12, and lose their chance to break the cycle of poverty.
For many, that means they could face a lifetime of disadvantage – and the risk of that happening has never been greater.
Children living in disadvantaged families are four times more likely to start school behind.
Disadvantaged students are on average 2-3 years behind in reading and maths by the time they are 15 years old4.

Research shows that completing Year 12 (or equivalent) increases a young person's likelihood of continuing with further study, as well as entering the workforce5.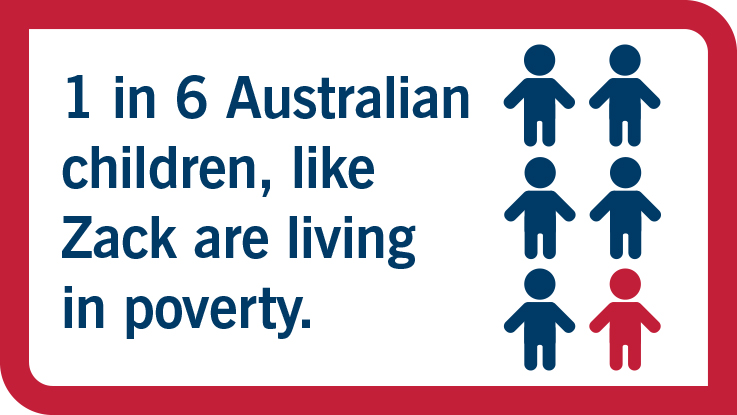 The impact on a child's education can affect the course of their entire life: without help, they may never be able to break the cycle of disadvantage.
Research shows that around 41% of 24-year-olds from the most disadvantaged backgrounds are not fully engaged in work or study, compared to 17% of those from the most advantaged backgrounds6.
How you can help children like Zack build a better future for themselves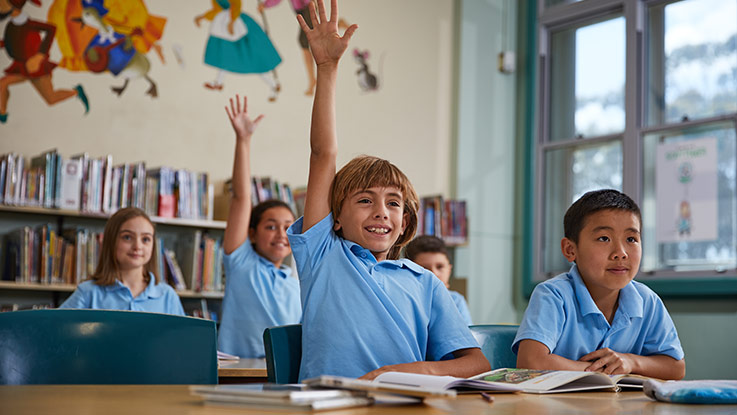 How you can help children like Zack build a better future for themselves
Thanks to the support of people like you, we've been able to adapt many of our programs in response to the extra challenges caused by COVID-19.
Many of our programs, including student2student, Let's Count, and even our Learning Clubs, can now be successfully delivered via phone or online.
This means that children can still get the help they need to build core literacy, numeracy, and digital skills and keep up with homework, even when school is disrupted.


Your gift this Christmas will help us adapt even more programs for digital delivery – and reach 9,086 more Australian children living in disadvantage next year with vital learning and homework support.
With your generous support, more children like Zack will be able to keep up with their peers, attend school more regularly, and eventually complete Year 12 – paving the way towards building a better future for themselves.
get involved this christmas
1Zack's name, location and associated images have been changed to protect their identity.
2 Poverty in Australia, 2020, ACOSS/UNSW Report.
3 COVID-19 Catch up: helping disadvantaged students close the equity gap, Grattan Institute, June 2020.
4 Thomson et al, 2011, Challenges for Australian Education: Results from PISA 2009.
5 Australian Curriculum, Assessment and Reporting Authority 2012. National Report on Schooling in Australia 2010: Additional statistics.
6 Department of Education, Employment and Workplace Relations, 2008, Review of Australian Higher Education Final Report.