Together we're making a difference
In the last year our work reached more than 162,534 children and young people in need in 91 communities across Australia, thanks to the support of caring Australians.
Over the five years to June 2023, 72% of funds raised from individual supporters and partner organisations has been spent on our community programs.
We continue to manage the funds entrusted to us effectively and efficiently, helping us to direct more of the funds raised to our community programs by:
Our expenditure on administration averaged 3.1% of total income throughout the year, and
through an incredible 5,162 volunteers supporting our work in every state and territory in 2022–23, donating more than 108,341 hours of their time, valued at $3.4m.
Thanks to the ongoing commitment of all our supporters, in 2022–23 we invested a record $111.5 million in our community programs.
LONG-TERM SUPPORT FOR LASTING CHANge
Creating better futures for young Australians in need.
The Smith Family is committed to improving the long-term educational outcomes of young Australians living with disadvantage.
To achieve this, our support starts in a child's early years, when we work with their family and community to build those important foundational skills children need to succeed at school.
Once a child starts school, we ensure they have the everyday school essentials and extra support they need to engage fully with their education, from kindergarten to Year 12. If they go on to tertiary education, we connect them with a mentor, and provide additional resources to help them take the first steps in their chosen career.
We also support parents and families by enabling them to develop confidence and skills to engage positively with their child's education. With this assistance, parents can help their children reach their full potential.
Our long-term, targeted educational support gives children and young people opportunities to develop the tools they need to break the cycle of disadvantage and build a better future for themselves.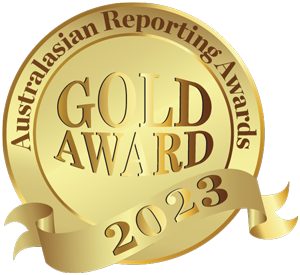 The Smith Family was awarded Gold at the Australasian Reporting Awards in 2023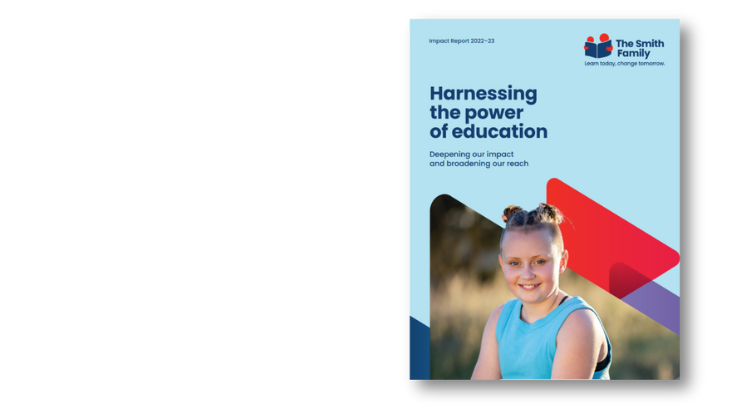 Previous Annual Reports & Financial Reports
We are governed by our Constitution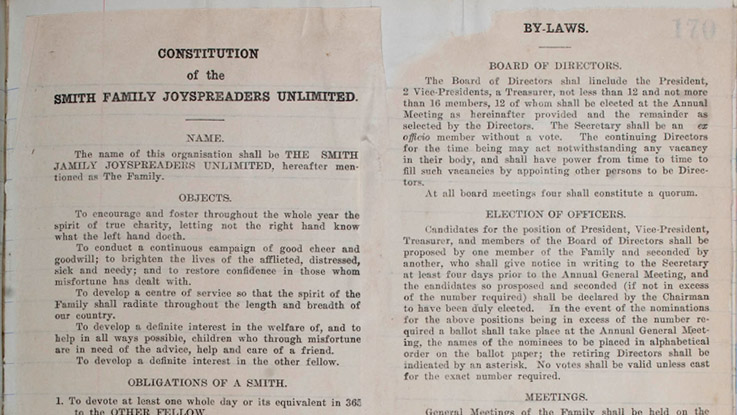 We are governed by our Constitution
The Smith Family is a registered charity. We are governed by a Constitution and embed governance structure that enables us to achieve our mission in a way that is consistent with our vision, values and strategy, creating opportunities for young Australians in need by providing long-term support for their participation in education.
The Smith Family's charitable status
The Smith Family's status as a Public Benevolent Institution (PBI) was confirmed in July 2005 by the Australian Taxation Office as part of its registration requirements for all non-profit entities, as was the organisation's status as an Income Tax Exempt Charity and a Deductible Gift Recipient. The organisation enjoys certain other tax concessions and exemptions consistent with its status as a PBA which relate to Goods & Services and Fringe Benefit Taxes.
The Smith Family is registered as required by law in each State and Territory where it raises funds as follows:
Australian Capital Territory
Registration number L19000133 – renewable in 2020
New South Wales
Registration number CFN 11049 – renewable in 2019
Queensland
Registration number CP 4163 – registration is ongoing subject to meeting certain annual financial reporting requirements
South Australia
Registration number 778 – ongoing subject to continued registration with the ACNC
Tasmania
Registration number 170 – registration is ongoing
Victoria
Registration number 10290 – renewable in 2021
Western Australia
Registration number 20352 – renewable annually
Smith Family is a company limited by guarantee (ABN 28 000 030 179). The Smith Family's auditor is Ernst & Young. Legal services are provided by King & Wood Mallesons and banking by Westpac Banking Corporation.