The Smith Family Constitution
Each year thousands of generous individuals contribute to support our educational learning and support programs for disadvantaged children across Australia.
We are committed to ensuring this support is used in the best possible way, and strictly adhere to regulations and relevant policies to uphold this commitment.
The Constitution of The Smith Family provides the overarching governance structure that enables us to achieve our mission in a way that is consistent with our vision, values and strategy, creating opportunities for young Australians in need by providing long-term support for their participation in education.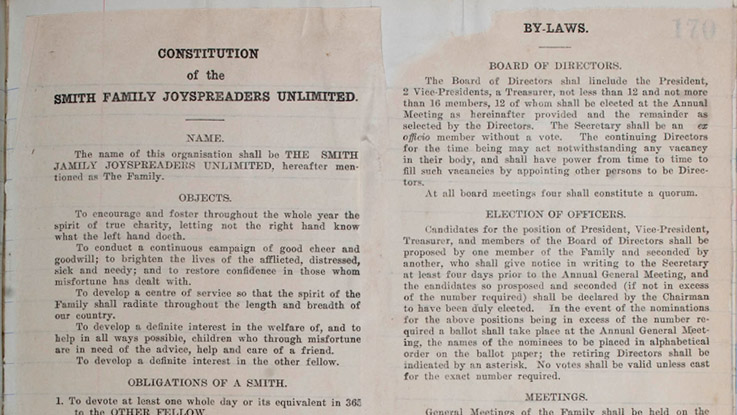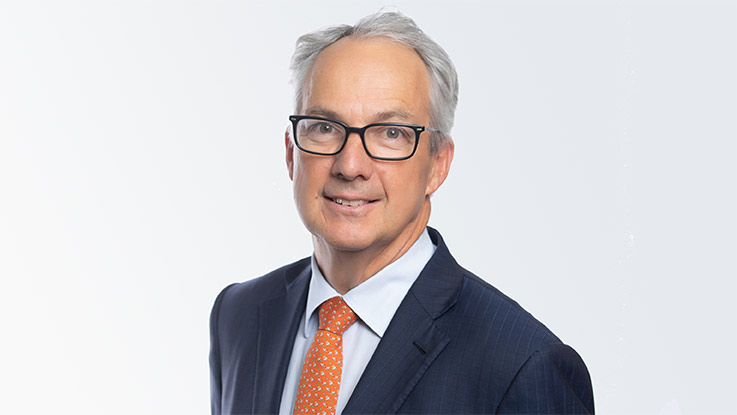 The Smith Family is committed to child protection
The Smith Family is working towards a better future for young Australians in need, by providing long-term support for their participation in education. This statement outlines our commitment to safeguarding children and young people from abuse and neglect as we work with their families and communities.
We will provide safe environments; always act in the best interests of children; and take action to protect children and other vulnerable persons from abuse and neglect.
Safeguarding Children and Other Vulnerable People from Abuse and Neglect
Provide safe environments
We take seriously our responsibility to always provide safe environments for the children and young people participating in our programs and activities. We work with communities to ensure we are culturally respectful and inclusive. We have adopted and continue to monitor our compliance with the National Principles for Child Safe Organisations:
Child safety and wellbeing is embedded in organisational leadership, governance and culture.
Children and young people are informed about their rights, participate in decisions affecting them and are taken seriously.
Families and communities are informed and involved in promoting child safety and wellbeing.
Equity is upheld and diverse needs respected in policy and practice.
People working with children and young people are suitable and supported to reflect child safety and wellbeing values in practice.
Processes to respond to complaints and concerns are child focused.
Staff and volunteers are equipped with the knowledge, skills and awareness to keep children and young people safe through ongoing education and training.
Physical and online environments promote safety and wellbeing while minimising the opportunity for children and young people to be harmed.
Implementation of the national child safe principles is regularly reviewed and improved.
Policies and procedures document how the organisation is safe for children and young people.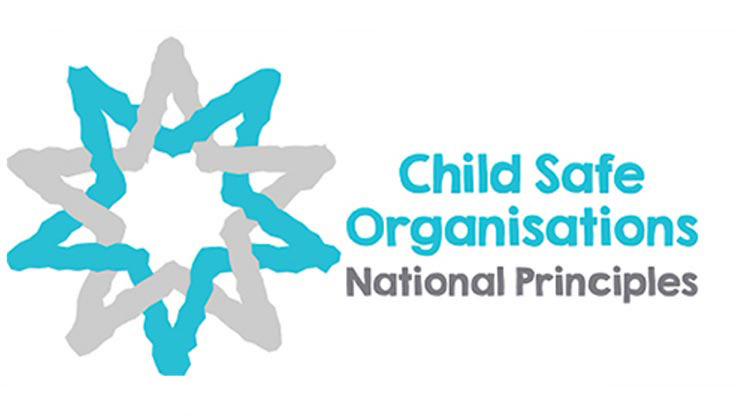 Act in the best interest of children and young people
We will always act in the best interests of children and young people who are our primary consideration.
This is consistent with Article 3 of the United Nations Convention on the Rights of the Child, which Australia ratified in 1990.
Act to protect children and other vulnerable people
We will always act to protect children and other vulnerable people from physical abuse, emotional abuse, sexual abuse, neglect and witnessing family and other violence. We act on this commitment by implementing our Child Protection Framework, which all our team members and volunteers must comply.
We introduce families to the Framework when we begin working with them, and at least once per year after that we refer them to our Information for Families about Child Safety and Protection.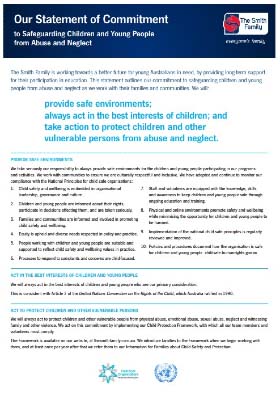 Our Child Protection Framework
The Smith Family Child Protection Framework: Safeguarding Children and Other Vulnerable People from Abuse and Neglect outlines our commitment, roles and responsibilities, and management strategies for safeguarding children and other vulnerable people from abuse and neglect. The Framework applies to all employees and volunteers, and has implications for our supporters, partners and external third-party providers. It takes into account state and territory child protection legislation.
The Framework relates to children and young people under the age of 18 years. We also consider the guidance it provides when we work with students and others aged 18 years and over. Although child protection legislation does not apply to adults, our commitment to safety, wellbeing and protection extends to all the students and vulnerable people we work with.
This Framework comprises:
our Statement of Commitment to providing safe environments; to protecting children, young people and others who may be vulnerable; and to always acting in the best interests of children
the roles and responsibilities of the Board, the Executive and each business area; of managers; of Child Safety Contact Persons; and of all team members. These responsibilities include reporting and accountability obligations
our strategies for providing safe environments, encompassing our risk management approach; our work engaging with children, young people and families; our recruitment, learning and development activities; supervision; digital programs and activities; communications, marketing, media and events; and research and advocacy
our actions to protect children and young people, including reporting and managing child protection concerns and complaints
definitions of key terms used throughout the Framework
tools and resources to support implementation are published on our internal website


Download our Information for Families about Child Safety here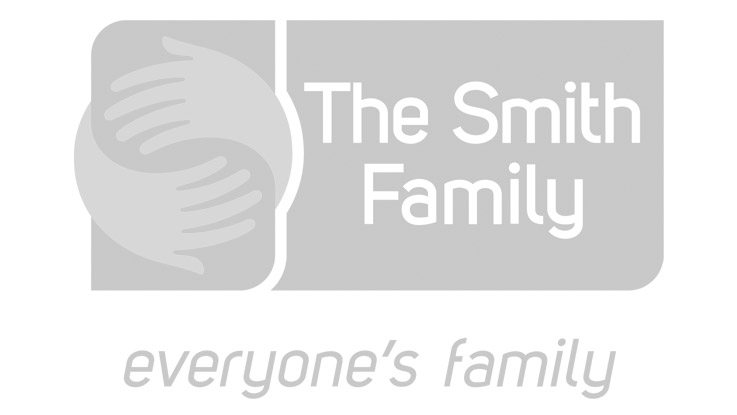 The Smith Family is very committed to ethical behaviour that is aligned with our values and complies with all relevant state, territory and commonwealth laws. To demonstrate our commitment, we have developed a Whistleblowing Policy that provides guidelines for any person or organisation associated with The Smith Family who may wish to report an actual or suspected wrongdoing. Examples of wrongdoing include fraud, corruption, illegal activities, gross mismanagement and malpractice. The policy outlines the importance of any person being able to report a wrongdoing without fear of retribution.
Read our Whistleblowing Policy.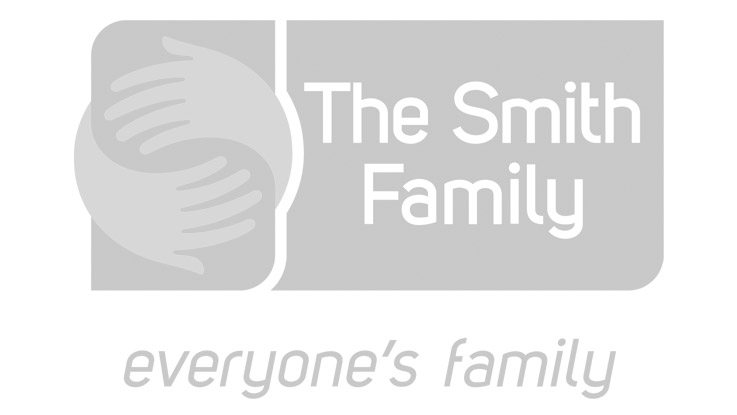 Direct Debit Service Agreement
What is a Direct Debit Service Agreement?
If you have recently completed a sponsorship or pledge form that asks us to make regular deductions from your credit card or bank account, we are required to provide you with a Direct Debit Service Agreement. You don't need to take any action unless you wish to vary the terms of our Agreement. This Agreement sets out our commitment to you, your rights and responsibilities to us, together with where you should go if you require assistance.
Our commitment to you
This Direct Debit Service Agreement outlines our service commitment to you under the Direct Debit Request (DDR) arrangements made between The Smith Family (User ID 031114) and you.
Initial terms of the arrangement
In the terms of the DDR arrangements made between us and signed by you, we undertake to periodically debit your nominated account for the agreed amount to go towards The Smith Family's community service programs - as shown on the Authorisation and DDR form which you have sent to us.
The DDR details the terms of your debit arrangements including, among other things, the amount, the frequency, the expiry (if any) and the program you are giving to.
You should carefully read the DDR to familiarise yourself with the details of your debit arrangements.
Your responsibilities
checking with your financial institution prior to completing the DDR that direct debiting is available on that account;
ensuring that the account you nominated has sufficient cleared funds available to pay each debit when it becomes due. This is because you will be responsible for any fees incurred if you have insufficient funds in your account;
ensuring that the authorisation on the DDR is identical to the account signing instruction held by the financial institution of the nominated account;
telling us if you close or change the account you nominated; and
arrange a suitable alternate payment method, if the direct debit arrangements are stopped, either by you or your financial institution.
Debit arrangements
If we receive your first DDR debit under this Direct Debit arrangement between the first and tenth business day of the month, then the first payment will be taken at this time. If it is received after the tenth business day then the payment will be taken on the first business day of the following month. From then on, The Smith Family will debit all future donations from nominated accounts on the first business day of each month that installments are due, until such time as you advise us otherwise.
Alteration or cancellation
You may cancel your DDR, stop or defer an individual debit, request a change to the debit amount, or make other changes, by firstly writing to us at The Smith Family, GPO Box 10500, Sydney, NSW 2001, Australia or contacting us on 1800 024 069 or by emailing your request to [email protected] (please include your Supporter ID). Please provide us with at least 10 business days notification to process your request in time. These changes may include:
stopping a debit
altering the schedule
deferring a debit
suspending the DDR
changing the program you are giving to
If we vary any of the debit arrangements either set out in this agreement of in the DDR or otherwise we will provide you with at least 14 days notice in writing. For example, we may need to vary the amount of the debit for certain programs from time to time because the cost of providing The Smith Family's services may increase over time.
Your privacy
We will keep your personal information confidential. We will only share these details when we need to:
provide information to our bank to initiate the debit from your nominated account,
provide information to your Financial Institution in relation to a claim regarding alleged incorrect or wrongful debit; or any information we are required by the law to disclose.
We will take reasonable steps to protect personal information held by us against loss and against access, use, modification or disclosure that is unauthorised.
Enquiries
Enquiries should first be made to us rather than to your financial institution.
If you believe that a debit has been initiated incorrectly please contact us. The Smith Family will investigate any disputed debit item and contact you within 24 hours of the initial enquiry. If you do not receive a satisfactory response from us to your dispute, contact your financial institution who will respond to you with an answer to your claim:
within 7 business days (for claims lodged within 12 months of the disputed debit), or;
within 30 business days (for claims lodged more than 12 months after the disputed debit)
You will receive a refund of the debit amount if we cannot substantiate the reason for the debit.
If you have any queries or concerns, please don't hesitate to contact us:
Mail: The Smith Family, GPO Box 10300, SYDNEY, NSW 2001, AUSTRALIA
Phone: + 612 9085 7222 or 1800 024 069
Email: [email protected]