QUT Explore Uni Camp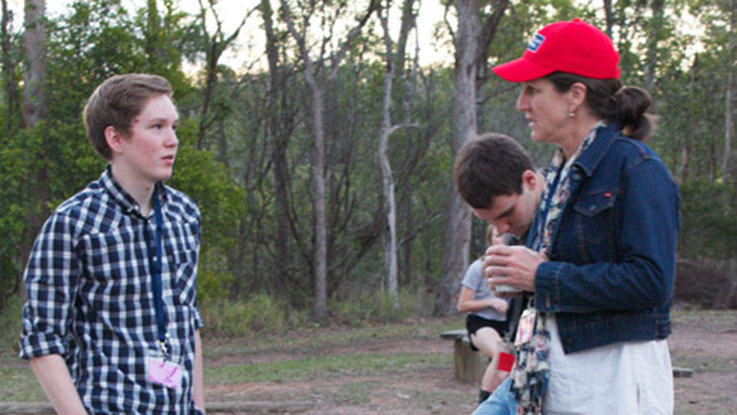 QUT Explore Uni Camp
Since attending the camp I have really thought about my options at university and attending QUT and the possible ways to get there. Attending the Explore Uni camp … has influenced me to strive to be my best in all my subjects so I can get to university.
- Explore Uni camp participant, 2015
The university experience for students from under-represented groups in higher education should begin well before they attend campus in the first year of their course. This view maintains that "the first year of university is, in fact, the culmination of years of socialisation and shaping of an individual's views about whether or not university study is something to which they can and should aspire (Krause, K-L., 2006)."
Queensland University of Technology's 'Explore Uni' camp aims to prepare students for tertiary study by supporting Learning for Life students from across Queensland to gain a better understanding of what university is like, and imagine themselves on campus in the future.
In September 2015, over 60 Learning for Life students from Years 10–12 were invited onto QUT's campuses at Caboolture, Kelvin Grove and Gardens Point to develop their understanding of university study. The three-day camp provided students with preparatory knowledge about course and career pathways, as well as information about the support services designed to support their success. Over the three days students learned to bust a few myths around who gets into university, whether university is affordable and whether you have to sacrifice your social life to succeed at uni!
The camp also enabled students to develop their sense of self-confidence. The group consisted of students from over 40 different schools and each was supported to ask questions of university staff and current QUT students.
Feedback from students demonstrated the impact the program can have on changing students' attitudes towards university study. Students commented that:
The Explore Uni camp taught me that I am very capable of doing what I want to do and that I am good enough for my uni choices which has made me excited to pursue further study.
I was at the stage of year 12 where I wanted to drop everything and give up. Going to the camp… gave me the motivation to keep going.
Mr Adam McNiven from QUT's 'Explore Uni' team said the camps were held each year to provide information about study options, career planning, entry programs, financial assistance and support services available at university and TAFE.
The camps aim to build on the students' aspirations to study after Year 12 by giving them an insight into university life and an opportunity to meet and learn from current uni students.
The camps are fully subsidised by QUT as part of our effort to increase enrolments from students who may not feel that they currently have the opportunity to study at uni or TAFE after school. The kids and TSF staff love it, and we know there are a lot of people studying at uni now who have been to the camps.
The Smith Family have partnered with QUT to deliver the 'Explore Uni' experience to Learning for Life students since 2010. The camp is just one of a number delivered by QUT to help increase the participation of students of under-represented groups in higher education.