University of Technology Sydney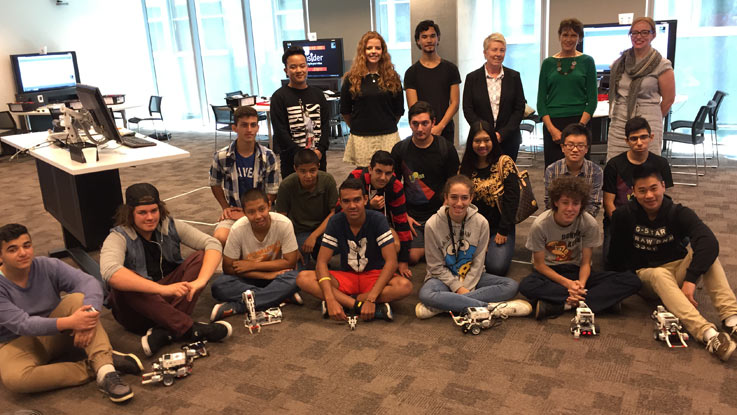 University of Technology Sydney
In 2014, we renewed our partnership with University of Technology Sydney. Both our organisations share a commitment to improving the educational outcomes of students from low socioeconomic backgrounds, so what can we achieve by leveraging our respective strengths and skills?
Andrew Connolly, Manager of Equity and Diversity at UTS, provided one answer when he invited Smith Family team members onto the Sydney campus to share their story and witness the UTS Summer School in action.
Reflecting on the event, Andrew said: "our interaction with The Smith Family was a valuable way to create communities of practice that realise the mutual benefit of partnership. Embedding collaborative learning opportunities within [UTS's] routine work practices are extremely valuable for our extended thinking and action beyond organisational boundaries."
Head of Policy and Programs for The Smith Family, Wendy Field agreed, commenting that: "the UTS day was a fantastic opportunity to build an on already-strong partnership."
"By sharing our own work – our strategies, our program evaluation and our significant research – with partners such as UTS, we can strengthen each organisation's expertise, and as a result, the impact of our work."
UTS has supported our work in the Wiley Park community in South West Sydney since 2008. In 2014, we provided Learning for Life scholarships to almost 300 Wiley Park students, with UTS being one of our most productive supporters of this community. Through Learning for Life, each student is provided with financial support from their sponsor for their education essentials, support and guidance from a community-based Program Coordinator who also links them and their family to literacy, numeracy and mentoring programs which strengthen their engagement with learning.
Andrew Connolly sees our partnership evolving to create new dimensions. January's event was "an opportunity to share strategic goals, program responses, and evaluation outcomes. Immediately apparent on this day was the passion that both teams have for supporting students from disadvantaged communities to aspire, access and succeed in higher education, and the rigour of the practices in place to do this."