KIKASS opens doors for Keyanna
Young Indigenous women face many barriers to education. From Year 8, Keyanna took part in a Smith Family program that encourages Indigenous students to finish high school. Not only did she graduate Year 12, she is now set to become the first Indigenous student to enter the Victorian Ambulance Service.
"I can't wait to start studying to become a paramedic," Keyanna, KIKASS Program Participant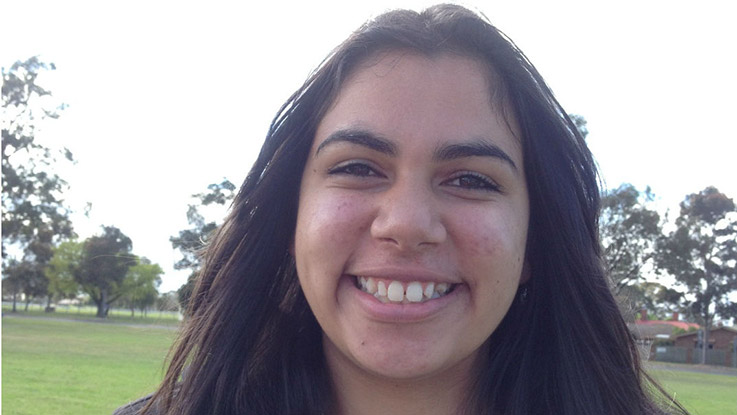 At the start of secondary school I knew I wanted to work in the health field, but as things started to settle down and get serious I realised I wanted to be a paramedic,
In 2011 only 54% of Aboriginal and Torres Strait Islander people aged 20–24 had attained Year 12 or its equivalent, compared with 86% of other Australians. Research shows that Indigenous girls are particularly at risk of dropping out of school early, with barriers such as financial hard ship, transportation issues or responsibilities caring for family members.
That's why The Smith Family's Keeping Indigenous Kids at Secondary School (KIKASS) program includes a wide range of personal development, education and career opportunities for Indigenous girls and boys. Keyanna says taking part in KIKASS from Years 8–12 made a huge difference in helping her to graduate.
KIKASS students are supported by their Learning for Life Program Coordinators. Aware of Keyanna's aspirations, Keyanna's coordinator, Jenny, arranged a meeting with the Ambulance Service.
There had never before been an Indigenous student with the Victorian Ambulance Service and the team acted quickly to make the career pathway accessible.
"Jenny has helped us to identify exactly what barriers Keyanna would face in moving to Melbourne and what we needed to put in place to develop a program that's geared to success for Keyanna," says Lindley from the Victorian Ambulance Service.
KIKASS has definitely changed my life. It gathers young Indigenous people at secondary college – it's basically a reward program for them to be on," says Keyanna. "It's a great program, with great goals in mind. I think it has pushed me to get through secondary school.
I've been accepted to study a Bachelor of Paramedicine. Thank you very much for all that you've done!
Focused on opening doors not just for Keyanna, but for all Indigenous students, Jenny and Lindley worked together to design a cadet program that would invest in the future of Indigenous Australians.
"The Smith Family has been pivotal in that development process. With their insight into the difficulties that are faced by Indigenous kids, we've been able to look at models of a whole lifestyle program in Melbourne that makes it achievable for Keyanna to get to university," says Lindley.