How Sebastian bounced back after a tough start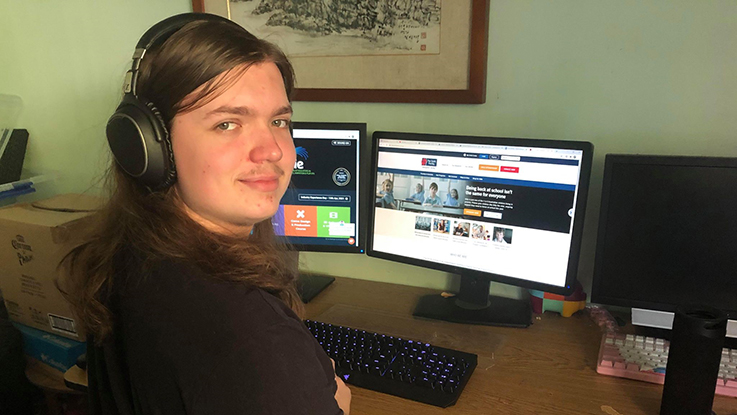 Education was a priority for Beata, but as a single mum she could barely cover school essentials for her three sons. That was especially hard because her middle son Sebastian was excelling in maths. Despite their hardship, he felt good about school.

Then in Year 7, Sebastian got sick. He was absent most of the year. "If you miss Year 7, you miss a lot of the basics. It's hard to catch up," says Beata. "When Sebastian finally returned to school, he struggled with maths. It had always been his favourite subject, so it was hard to watch him battle."
Sebastian already felt different to his classmates because he couldn't afford the things he needed to learn. Struggling with his best subject was another blow. It shook his confidence, and he began to disengage at school. For students like Sebastian, disengagement increases the risk of leaving school early without the skills to go on to further education or employment.

But thankfully, things turned around when Sebastian was sponsored through our Learning for Life program. Beata could use the financial support from his sponsor to pay for school essentials such as stationery, well-fitting shoes and excursions. Beata could even put away some of the scholarship payment to buy Sebastian a laptop for school, which he needed to complete his schoolwork and pursue his career interest in video production. "This would otherwise have been impossible," says Beata.

Seeing him take charge of his own education and wanting to learn was incredible.
I greatly appreciate my sponsor. They have helped me hugely!
His sponsorship also provided Sebastian access to our out-of-school Learning Club. The volunteer tutor at Learning Club helped him regain good homework habits he'd lost while sick. Soon his marks improved. "Seeing him take charge of his own education and wanting to learn was incredible," says Beata.
Fast forward to Year 12 and Sebastian's HSC maths exam. He achieved a Band 6 – the highest performance possible. "Getting confidence in maths gave Sebastian the ability to go, 'OK, I can get better at other things too'," Beata says. "I'm very proud of him."
With high school over, Sebastian is now doing an advanced diploma in game design and production. He continues to be supported by his sponsor during his tertiary education, which helps to ease the financial burden at this important time.
"I greatly appreciate my sponsor," he says. "Their support has meant I've been able to do things so I can pursue my desired career path. They have helped me hugely!"