Bailey has now achieved his dream long after we first interviewed him
We first interviewed Bailey when he was just 12 years old. He told us then that one day he wanted to be a mechanic. Now aged 16 (right) and in Year 12, Bailey's all grown up and he has landed his dream apprenticeship.
It took courage for Bailey to walk into his chosen mechanic a few years ago and ask for work experience. And his hard work turned it into an official apprenticeship. But Bailey wasn't always self-assured and his family experienced trying times.
"We'd lost our business and financially we were pretty much going down the tube. It was certainly a rough time in our lives when we first started with The Smith Family. It was probably the lowest point in our family life and the kids knew it was tough," said Terina.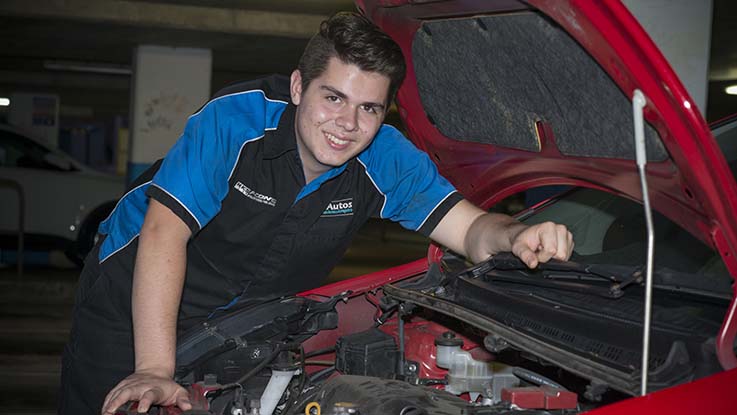 Bailey's reading buddy had these goals and all these aspirations ... I think it gave Bailey that bit of motivation also to start having goals and dreams.
Terina and her husband were fighting to make sure they didn't lose their family home. The money just wasn't there for the school essentials, like complete uniforms.
Bailey had always been gentle and kind-hearted. So when the other children bullied him for looking different, it really affected his self-esteem. But when Bailey was matched with a sponsor seven years ago, everything turned around.
Thanks to the generosity of his sponsor and other Smith Family supporters, Bailey got the help he needed. He was able to buy a new school bag, the right school shoes and any school books he needed. Between the ages of 10 and 12, he also took part in our student2student program. It pairs students who are behind in their reading with trained student buddies who read with them over the phone.
"I wasn't the best of readers when I was younger. I often stuttered with my words and messed up a lot. Student2student boosted my confidence and I improved a lot in my reading. Even the work that I do now, it involves a lot of reading – reading the car manuals," said Bailey.
With a clear goal, Bailey worked hard to get where he is today. He has made a great impression at work and one day would love to have his own business.
"I've always wanted to be a mechanic. Ever since I used to go in with Dad to the mechanic and have a look around. After helping out during my holidays, I just liked it that much and they loved to have me around. They always told me I was the best rookie they've had," said Bailey.
"[At my school], when you get into Year 11 you get one day off a week to go do work experience or a traineeship or something along those lines. This apprenticeship takes up that one day."
To be quite honest, I would struggle if I hadn't done student2student. I'm just glad that I got that opportunity.
Even with all of his success, Bailey knows how important it is to finish his schooling.
"There was a temptation for a while of dropping out and going full time – completing my apprenticeship at a young age. But I think that sticking to school is the best thing that someone can do, because it gives you so many opportunities afterwards," said Bailey.
Having financial support for Bailey's education was a huge relief for the battling family. But Terina never expected that generous strangers would become such an important part of Bailey's life.
"The impact has been great. Not only financially, but also morally," said Terina.
"[To The Smith Family supporters] I'd like to say thank you for all that you do for all kids. It's a wonderful thing to help out others. It's something that they're going to value through their whole lives," said Bailey.
Read more about our student2student program or click here to read Bailey's story from when he was 12 years old.