Every week I used to buy a few magazines worth $3.50 each and a couple of coffees worth $4.40 each. When I realised these added up to more than $1,000 a year, I wondered whether I really needed them or if it was better to bring coffee from home in a travel mug.
Saver Plus participants set a savings goal for education costs, make regular deposits into a savings account over 10 months, and attend financial educations workshops. At the end of the program their savings are matched by ANZ, dollar for dollar, up to $500.
Before she started Saver Plus, Michelle felt that she had a good handle on making her money stretch, but said that recognising "the small financial drains that were sucking money away was a big wake up".
Saver Plus helped Michelle pick up practical tips to make saving easier and built her confidence when making financial decisions.
Even though she has now completed the Saver Plus program, Michelle has been able to keep saving and feels she has more confidence and control over her money.
"It has definitely encouraged me to save, to spend less on little things, though sometimes it is nice to spoil yourself with a coffee, and to think big with financial goals. It has shown me that I can go on a holiday or buy big things, it just takes a little time to save for them, and as long as you keep your goals in mind, YOU CAN DO IT!"
Saver Plus is delivered in 60 communities across Australia. Participants must have a Centrelink healthcare or pensioner concession card, a child at school or be attending vocational education themselves, and regular household income from paid employment.
My sons know that by making small changes to their spending habits, they can save for better things.
Who is eligible for saver plus?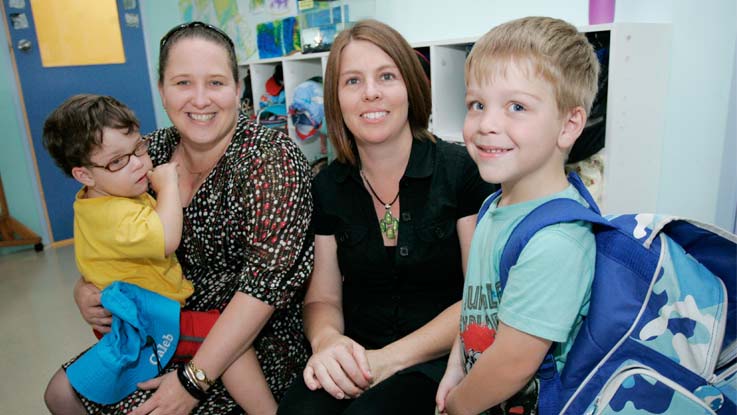 Participants may be eligible to join Saver Plus if they:
Are 18 years or over
Have a child at school or attend vocational education yourself
Have regular income from paid employment (you or your partner)
Have a current Health Care or Pensioner Concession Card
Are in receipt of an eligible Commonwealth social security benefit, allowance or payment. Many Centrelink payments are eligible, please contact your local Coordinator for more information
Once eligible participants sign up for Saver Plus they:
are assigned a Saver Plus Coordinator that provides personal support and guidance throughout the program
identify a savings goal
makes regular deposits over 10 month period
attend MoneyMinded training to improve their financial skills, which consists of four informative, fun and informal workshops or 8 interactive online modules
Upon completion of the program, ANZ matches the participants' savings dollar-for-dollar up to $500 which can be spent on educational expenses including computers, text books, uniforms, excursions , music and sports costs.
Saver Plus is an initiative of Brotherhood of St Laurence and ANZ, delivered in partnership with Berry Street, The Benevolent Society and The Smith Family and other local community agencies. The Program is funded by ANZ and the Australian Government Department of Social Services. Go to www.dss.gov.au for more information.