Sally celebrates sponsored students' graduation
It's graduation night, Sally, our Smith Family Learning for Life Program Coordinator, feels like a proud mum. She claps and shares in the smiles and happiness as each student collects their certificate. It's not just because she knows these young people and recognises the obstacles they've had to overcome. Nor is it just seeing how their sponsors' generosity has changed these students' lives. Above all, it's the understanding of how significant their achievement is in helping these children to break the cycle of disadvantage and change their future.
"For a lot of these kids ... this is the first time someone in their family has finished Year 12, let alone gone on to tertiary studies. To have somebody say: 'I'm the first in my family to get my Year 12 certificate,' is pretty massive," says Sally.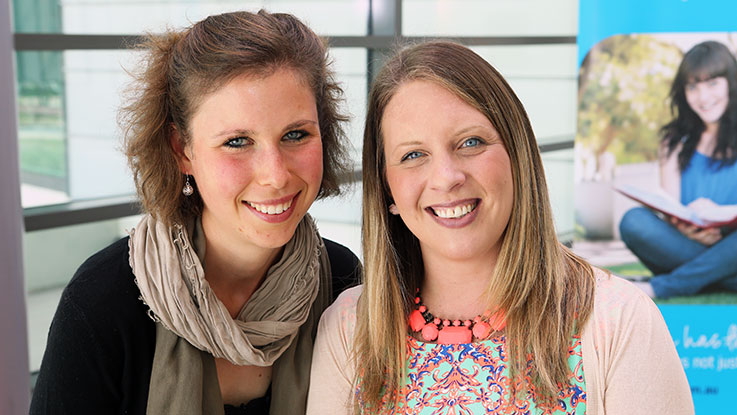 Education is the key. When you've got a big accomplishment like graduating Year 12 under your belt, the next one's not so daunting.
Every year The Smith Family puts on a graduation night in each state and territory across Australia. Sponsored students graduating Year 12 or their tertiary studies are invited, along with their families. With nibbles, an award ceremony and speeches, the night is a celebration of this milestone and an opportunity for younger siblings to be inspired.
"It's a big celebration. I think we have to acknowledge that for a lot of our families," says Sally. "We do hand out certificates as well. It's important for them to know we're especially proud of them."
24-year-old Katherine accepted the invitation to be the MC at one of the recent Smith Family Graduation Ceremonies. For a student who says she is more comfortable being in the background, it was a chance to shine. And Sally said Katherine did an excellent job.
"I quite enjoyed it. It was nice to sort of give something back," says Katherine. "[I graduated] with a Bachelor of Educational Studies. [Graduating] was just a relief and I was happy."
For Katherine, standing on stage as a tertiary graduate was a milestone she wasn't always sure she'd reach.
"I just couldn't see myself making it through … In 2011, my mum had Meningitis Listeria and Septicaemia all at once. The next year I was diagnosed with Type 1 Diabetes … so [graduating] was quite a sense of achievement."
In the times when she wanted to give up, Katherine says having a sponsor gave her the drive to keep going.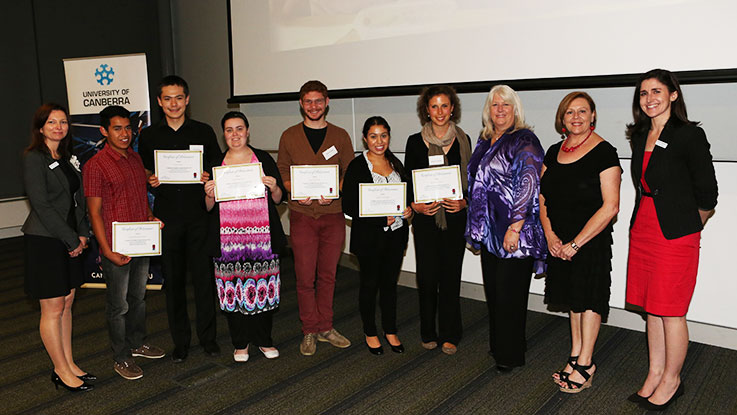 Just knowing that someone you don't even know is willing to put money towards your education … it is an extra bit of motivation. It just makes you feel … humbled.
Katherine received sponsorship through The Smith Family from early primary school right through to the completion of her tertiary studies. Sally saw how grateful Katherine was for the opportunity and how determined Katherine was to make her sponsor proud.
"Katherine said it really motivated her some days. It really made her get up every day," says Sally. "She's having a bad day, she thinks: 'Well, somebody's helping me do this. They don't even know me. So I've got to go!'"
With a range of possibilities before her, Katherine credits having the chance to complete her education with giving her the gift of a better future.
Katherine's appreciation of her education and its significance in helping her break the cycle of disadvantage is a sentiment echoed by other graduates.
At the Graduation Ceremony, Sally says there was one especially proud mother in the audience. Her daughter had graduated a university degree in economics and had already secured an internship at a prestigious company. Her son was a Year 12 graduate. He too was going on to study at university.
"I know that all the students that graduated are moving on to the next phase in their life. There are not too many that are without jobs or without further study," says Sally.
These special moments highlight the real difference supporters are making in the lives of these young people by removing barriers and enabling them to achieve their dreams.
For me, education isn't just about passing. It's about access to a future … it's access to opportunities that otherwise I wouldn't have had access to. So it's opened up doors.