Everything's on track. My grandfather actually bought me for my birthday a new computer and a printer. So it makes things a lot easier now.
All Melanie's assignments were previously done by hand until she received the gift from her grandfather. As well as the need for a computer and printer, Judy has certainly noticed the greater cost of school essentials at the high school level. "[The list] was sent home the other day and when I saw it, I sort of went: 'Oh. I wasn't prepared for this!" says Judy.
"Peer support camp is $285. And school contribution is $70. The technology is $45. The music is $10. The P.E. and sports is $10. The mathematics is $10 … All up it was $430."
With the financial support from her Smith Family sponsor, Melanie is able to meet the costs and participate fully in all of her school activities. And she is excited about the upcoming Year 7 camp.
She's loving high school. Every night she's organised, packing her bags full of books for the next day. She's doing very well.
With so many more subjects to keep track of, Melanie has devised a system in her school diary. She uses a series of codes to help her remember the necessities for each class.
"I've got an 'X', which means something to do on that day. So I just look at that. A blue love heart is 'Bring P.E. shirt'. A green one is 'Bring cooking apron'," says Melanie.
As a conscientious student, Melanie also makes sure she never misses homework or an assignment.
"Every time I walk into a classroom, I get the book that I want and my diary just in case. The bell might go and the teacher might say: 'Just do this for homework.' And then I quickly write it down and say: 'Oh, Miss, when do you want this due?'"
Perhaps the most exciting change for Melanie has been learning a language. With a family member living overseas, Melanie believes learning Japanese could open doors for her in the future.
"[When you grow up] you might want to move to a different country or something and you can't just walk up to a country and just stay there for a year. You've got to learn their language," says Melanie.
Judy loves seeing her daughter so enthusiastic about her studies. She often hears Melanie walking around the house practising her Japanese.
"She got an A in Japanese," says Judy.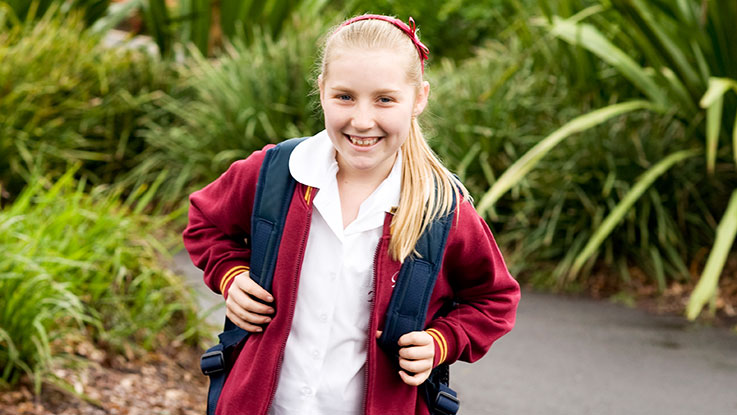 It means the world to Judy that Melanie can have the same learning experiences as her more privileged peers. Informal learning is something that is just as important as the formal classroom subjects. Judy sees the camp as a chance for the new students to form bonds that could last a lifetime.
"It's a camp where all the kids muck in and get to know each other on a more friendly, out of school basis. I thought Mel would benefit from that," says Judy.
"It shows the other kids another side of Mel, or another side of a child or of a person. It just makes things a little bit lighter, a little bit easier."
With high school off to such a strong start, Melanie has her sights on winning the Principal's Award. And Judy is delighted to see her daughter doing so well.
"I'm so excited. Everything's happening. This is our year," says Judy.
"We're doing archery, canoeing, low ropes, giant swing ... We're going out too at night time, cooking marshmallows and having a bonfire,"
Filled with nerves and excitement about making new friends, Melanie's most pressing concern on her first day of high school was fitting in.
"Mum walked me to school. It was very embarrassing!" she says.
It was an embarrassment soon forgotten as Melanie immersed herself in the foreign world of timetables, multiple building blocks and new faces.
"[There are] lots more teachers. They're really nice. It was good our first day because it was only Year 7 … So we got to know the school."
Although Melanie was school captain last year, Judy was a little worried how her daughter would handle the extra workload. Yet Melanie found her feet right away.