It's wonderful how 22-year-old Tilly encourages younger students. As a volunteer at our Learning Club, she loves helping them to expand their minds. It wasn't that long ago that Tilly was in their shoes. After her dad had a serious motorcycle accident, Tilly's mum became his full-time carer. So Tilly knows all too well the challenges of growing up in disadvantage.
"I was sort of the odd one out [at school], with all my mismatched clothing. I ended up struggling to read as I slipped through the cracks. I was failing English class," she said.
When Tilly and her sisters met their Learning for Life Coordinator, everything turned around for them.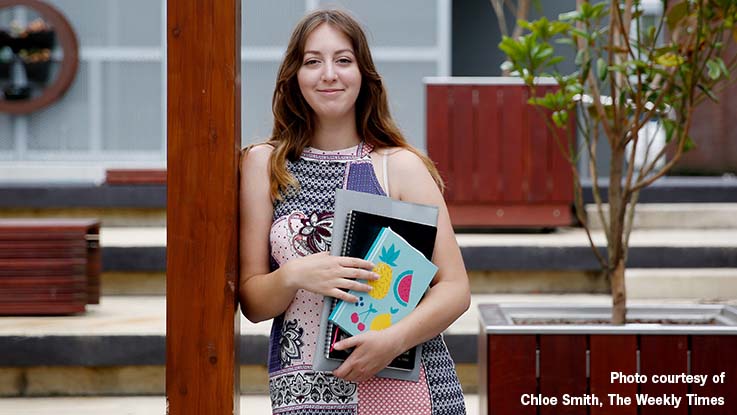 I love tutoring at the Learning Clubs. The kids are super cute and so full of pep.
"I started receiving sponsorship at a very young age. My sisters did too. But it did not stop there," said Tilly.
"I was put into a Learning Club and sometimes had people tutor me one-on-one with my schoolwork."
Tilly says that sponsorship and the out-of-school homework support at Learning Club enabled her to achieve A+ grades. Now she enjoys helping other students to reach their potential.
"I love tutoring at the Learning Clubs. The kids are super cute and so full of pep. They always give their best effort and support each other to learn," she said.
Beyond the practical support, Tilly gained a huge amount of self-belief. This became the force driving her to do great things.
"Having my sponsors write to me and cheer me on was always motivating. It was nice to know that someone cared," said Tilly.
"When I was young I had no idea about uni and never thought I would be capable of going to uni. After a few of my older sisters were helped through university by The Smith Family, I had new role models. I realised that I could dream big."
"I am currently a full-time mental health practitioner and NDIS Liaison. Last year I completed my Honours Degree in a Bachelor of Psychological Science. It was hard work, but very fulfilling. I am hoping to one day get into Masters so I can become a Clinical Psychologist."
With a bright future ahead of her, Tilly will always be grateful to the sponsors, supporters and volunteers who have given her so much. And she plans to keep inspiring other disadvantaged students to be their best.