Anita's volunteer work helps students in need
"When I read about The Smith Family's mission, it sounded perfect for me. Supporting a child's education is something I really believe in," says Anita, Smith Family volunteer.
It was five years ago that Anita walked into our Volunteer Coordination Unit (VCU) for her first day. The VCU is our central hub for the registration, screening and matching of Smith Family volunteers to various activities across the organisation. It looks after everything from the online promotion of volunteer opportunities, registering interest from corporate and community volunteers and screening activities such as conducting Working with Children Checks.
Anita is just one of nearly 9,000 volunteers who make our work possible every year. With a background in non-government organisations, she loves knowing that her professional experience is helping students in need.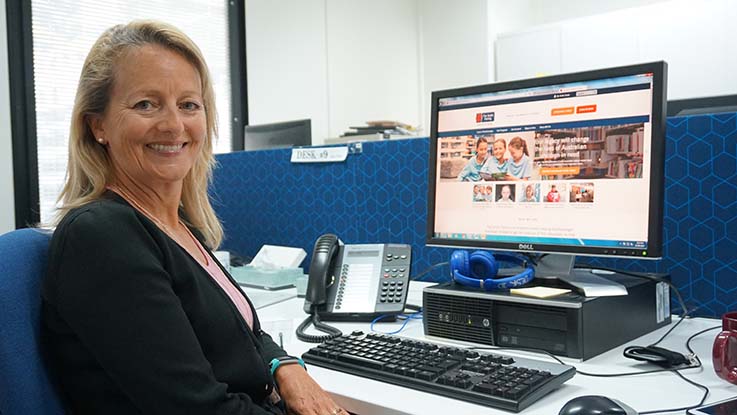 There are so many benefits to being part of such an impressive and innovative organisation.
The Smith Family has a very solid track record and I think that's something people would want to be part of," said Anita.
Last year alone, volunteers contributed 464,614 hours, valued at the equivalent of $13.9 million. Without volunteer support, we would not be able to deliver our learning and support programs. The roles are as diverse as our volunteers' skills, including assisting with projects, being part of in-house administrative teams and tutoring and mentoring to help disadvantaged students.
On top of the tangible outcomes of her work, Anita relishes the sense of community.
"I'm responsible for enrolling and screening applicants for volunteer roles Australia-wide. I also train new VCU volunteers, which I enjoy. It's a training ground for younger volunteers who seek experience or want to learn office skills.
"For others, they can contribute their time and their talents for a very good cause. Then, after all that, you have great camaraderie with like-minded people - that's the icing on the cake for me!"
If you would like to find out about volunteer opportunities in your area, go to: thesmithfamily.com.au/get-involved/volunteer
Even though my role is an admin support role, I find it deeply satisfying to help the organisation's mission.