Logan volunteers to close the gap for children in need
Logan looks around the Family Centre where he facilitates Smith Family learning programs. A young child digs into her gift bag and pulls out a new book. She wiggles onto her father's lap. Her dad reads expressively and the girl eagerly turns the page. It's a wonderful moment. Logan smiles, knowing that he's making a real difference while also gaining experience for his career in teaching.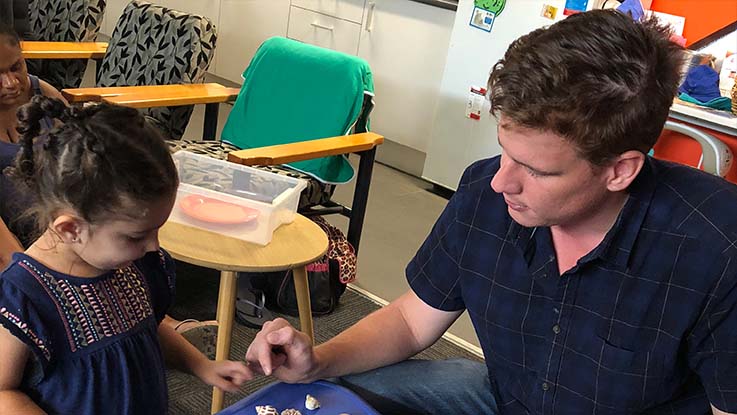 "I have been volunteering with The Smith Family for almost two years now. I'm currently undertaking a Bachelor of Education, so I find learning new skills great. I really appreciate being given the chance to be part of something so important and help deliver these programs," says Logan.

Many disadvantaged children miss out early on. Perhaps their parents cannot afford toys and books, or they lack the skills to help their children in their early learning. So they start school already behind. As a Let's Read educator, Logan shows parents how to help their children aged four and under to develop vital skills for school.
"Reading is such an important and necessary skill. By delivering the Let's Read program, I feel I am ensuring that all children will be given the same opportunity. Families receive an age-appropriate resource bag that has books. It also has hints and tips on how to read to their children and have conversational interactions," he said.
Logan also shares our Let's Count maths program with parents. And it has helped him see the openings to talk to children about maths in everyday situations.
By delivering the

Let's Read

program, I feel I am ensuring that all children will be given the same opportunity.
Cooking is a great activity to get children thinking mathematically.
"Let's Count shows parents that there are plenty of opportunities in everyday life. Take driving to the shops for example, you can have conversations about the speed limits, time, shapes, colours or patterns you might see. Cooking is another great activity to get children thinking mathematically," he said.
"Through Let's Count, we had discussions with families about the importance of numeracy and how it can give our children the best chance when they start school. It's all very well received!"
For Logan, the most fulfilling part of his volunteer efforts is knowing that early intervention is giving disadvantaged children a great start towards a better future.
"By providing children with a good education, we are giving them the best chance at life. In this day and age, literacy and numeracy are crucial skills we need to develop if we are to have any hope of living a successful and happy life. I believe the programs offered by The Smith Family truly make a difference and help close the gap," he said.
1. Let's Read was developed by the Centre for Community Child Health at the Royal Children's Hospital, Melbourne. The Smith Family implements Let's Read in partnership with Murdoch Children's Research Institute.