Marg thinks volunteering is an extraordinary experience
As a Corporate Responsibility Manager, Marg knows the importance of giving back. When she learned that she could volunteer to help disadvantaged students in Years 9 to 11 by becoming a mentor, she jumped at the chance. That was four years ago. And seeing the positive shifts in students keeps Marg coming back.
Through the iTrack program, mentors are carefully matched with high school students and discuss study and career options in secure, online chat sessions every week.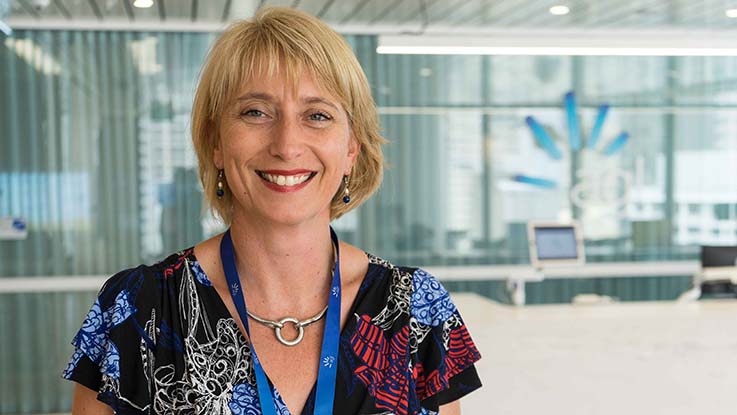 You don't always feel like you've made an impact, but you actually have. I remember the first student wrote to me saying, 'You've just made such a difference to my life. I had no idea about all these different things that I could do and that you've encouraged me to do.
"If you think about the kids that The Smith Family works with, they don't get all the opportunities that other kids do because they don't have the networks. So I'm mentoring a student and once a week I chat to her online for about an hour," said Marg.
"For me, it's about listening. It's not about telling them what they should or shouldn't be doing career-wise or anything like that. It's more about giving them ideas and a bit of encouragement and direction if they're not sure where they're going."
Creating connections with students who lack adult mentors isn't always easy. But for Marg, it's hitting those breakthrough moments with students that makes the experience so special.
"I love being a mentor because it's quite a challenge. The students vary. You can get a student who knows exactly what they want to do and has their career path all sorted. Then you have students who respond with one-word answers and it's very challenging to engage. But that's what brings me back," said Marg.
Marg finds the volunteering extremely fulfilling and feels well-supported by The Smith Family. She wishes to encourage others to get involved.
"The Smith Family is extraordinary. It's amazing how they run the volunteering and are so patient and kind with the mentors. They're very supportive," said Marg.
"Volunteering gives that opportunity to really get a sense of the broader community and how we can help in the social and economic inclusion space. I think what people get out of volunteering, you can't put it into words."
The feeling that you get from helping someone just because you want to, not for any other reason, is extraordinary.