Our learning and mentoring programs
Thanks to the support of thousands of generous Australians, and the dedication of our staff and volunteers, we provide vital learning and mentoring programs to thousands of disadvantaged Australian children and their families.
Our programs help build skills, knowledge, motivation, self-belief and a network of positive relationships with parents, peers and significant others. This support increases a young person's likelihood of remaining engaged with school, completing Year 12 and developing realistic and informed study and career pathways for life beyond the school gate.
Find out more below about three of our learning and mentoring programs: Learning Clubs, student2student and iTrack.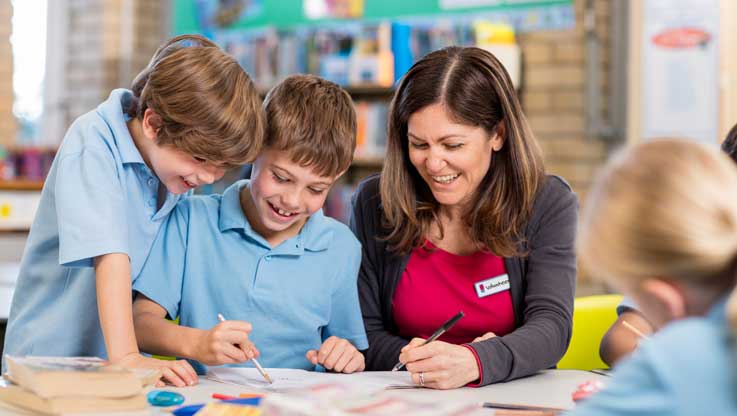 Learning Clubs
Learning Clubs are a safe and supportive out-of-school learning environment for primary or secondary students.
Students can do their homework or participate in numeracy and literacy activities, with the assistance of skilled volunteer tutors.
Learning Clubs improve the learning success of disadvantaged students and positively influence educational and personal outcomes.
In 2016-17, 87% of students agreed that going to a Learning Club helped them do better in class.
Find out more about Learning Clubs here>>>
student2student
Students who need to improve their reading are matched with peer buddies in our student2student program. Students and buddies receive an identical book pack from The Smith Family. The student and their reading buddy speak on the phone two to three times a week, over an 18 week period. The student reads to the buddy, who assists the student with their reading and offers encouragement and praise.
Student2student runs across Australia and our generous partner Optus provide funding, and technical expertise with mobile handsets and services. In 2016-17, 96% of students improved their reading ability because of student2student.
Find out more about student2student here>>>
The Smith Family proudly recognises Optus for its longstanding support of student2student. Since 2010 Optus has provided mobile phones, connectivity and credit to readers and buddies.
iTrack
iTrack is an online mentoring program for high school students in Years 9 to 11.
Students are carefully matched with a supportive adult (other than a teacher or parent) who mentors them, and gives valuable guidance about study, workplace and career opportunities.
iTrack helps students build aspirations for the future and learn how to reach their career goals.
In 2016-17, 81% of students agreed that their mentor helped them feel more confident about their future job, career or study options.
Find out more about iTrack here>>>