The Smith Family Pulse Survey
Survey reveals COVID-19 pandemic continues to deeply impact children's education
In the third academic year of the COVID-19 pandemic, children supported by The Smith Family continue to feel its impact on their education due to ongoing disruptions to 'normal' schooling, the after-effects of home learning and other urgent issues faced by families in need.
The findings are revealed in the latest Smith Family Pulse Survey, a national survey of more than 1,100 parents and carers whose children are supported by The Smith Family. They were asked questions about their experience of educational restrictions due to COVID, and how they and their children were coping with the return to 'normal' schooling in 2022.
This survey is the second survey of its type to be carried out by The Smith Family. The first survey gave us the perspective of The Smith Family's frontline team members; this time we spoke to the families we support. The survey will be repeated regularly to allow us to track families' changing circumstances and to build up a picture over time of what they're facing.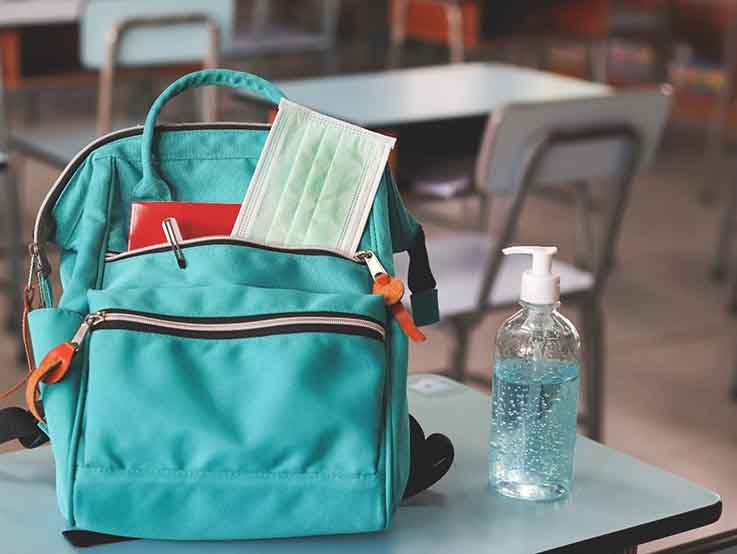 KEY FINDINGS:


66% of parents and carers said that starting school this year was difficult due to the ongoing impacts of COVID.





54% of parents and carers said that COVID would make it hard for their child to learn this year.





70% of parents and carers said they are worried about their children's schoolwork in the future, in particular their child falling behind at school, the ongoing disruptions to 'normal' schooling and the challenges of home learning.





74% of respondents said they struggled to help their child with school during COVID-19, due to lack of time, skills, devices or internet access for home learning and juggling other responsibilities.
COVID MADE STARTING SCHOOL IN 2022 DIFFICULT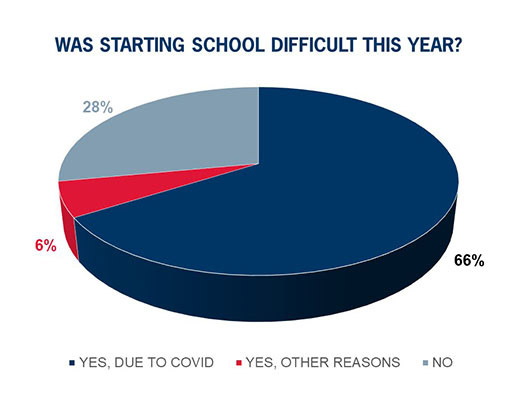 Two-thirds (66%) of parents and carers reported that COVID made starting school difficult in 2022.
The most common reason for this was the disruption to routine for them and their children.
Worries about getting COVID were also a concern for parents and children alike.
"My child was very afraid to return to school this year because of COVID, it was hard for me to get her to go back."

Other issues raised that made returning to school difficult this year were mental health and other matters related to COVID such as isolating and mask-wearing.
My eldest daughter was stressing about starting school again because of how long she had off and how she was very behind in her learning. She started to get anxious about it and not wanting to go.
COVID IS STILL MAKING LEARNING DIFFICULT
More than half (54%) of parents and carers who responded to the survey said COVID would make it hard for their children to learn this year.
The disruption to routine caused by the application of COVID restrictions was one of the major issues raised as continuing to make learning difficult. This wasn't just about restrictions but the sense that how they were being applied was continually changing.
Problems related to a child getting COVID and having to miss school and isolate also caused concern.
"The 10 days isolation was so hard. He was not feeling well but the fact he had to stay in his room all the time was a challenge."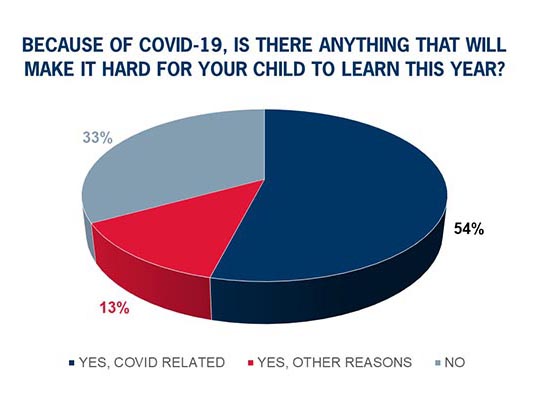 There needs to be more consistency on going to school. There's no school routine it's been all over the place. For example: Stay home from school due to COVID, then rules change and kids are back at school.
EFFECT ON CHILDREN'S LEARNING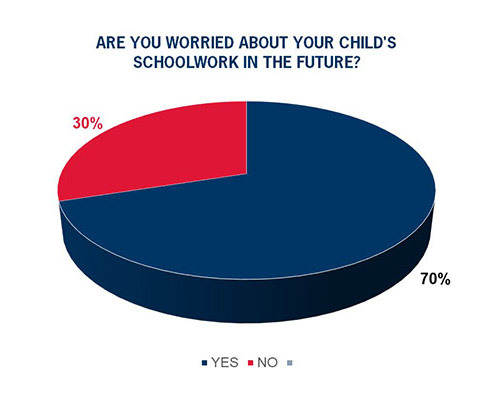 Many parents felt that the COVID-19 pandemic and subsequent remote learning had significantly affected their children's education and they were worried about the impact on their future studies.
The main causes of concern were lost learning, difficulties with home learning and the potential for COVID to create further disruptions at school.
"Because they have already missed so much schooling, COVID-19 has had a very big impact on my kids. They started Year 5 this year and already have had 3 weeks of cause of COVID."

I feel my child fell behind during lockdowns as online learning didn't give the opportunity to ask questions as much as it did face to face.
PARENTS STRUGGLED WITH REMOTE LEARNING ALONGSIDE THEIR CHILDREN
It wasn't just students who struggled with remote learning, it was a challenge for many parents and carers too. Many parents and care givers also found it difficult to deal with. Nearly 74% of respondents said they found it difficult to help their children with schoolwork.
The biggest issue was that they didn't feel they had the capacity to provide their children with an adequate education. 'We are not teachers', was a common refrain.
Others pointed out the lack of support – whether that was technical support (equipment and digital access) or educational support to help them understand the curriculum.
"As an uneducated mother it was very difficult as there was no support from their teacher physically to show and help them when needed."

Many parents highlighted the problems of juggling the needs of multiple children at different stages of learning, the physical limitations of having children learning from home and fitting in work and household chores.
"Having other stressful issues with insecurity with housing, lack of space for online work and ability to help all at once."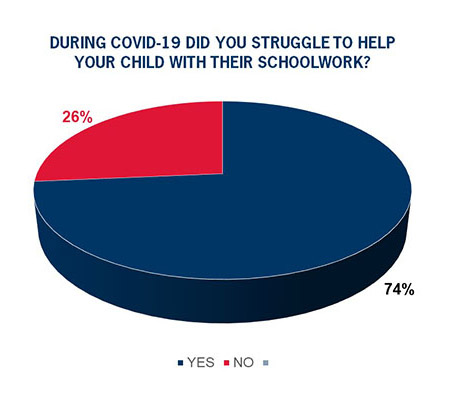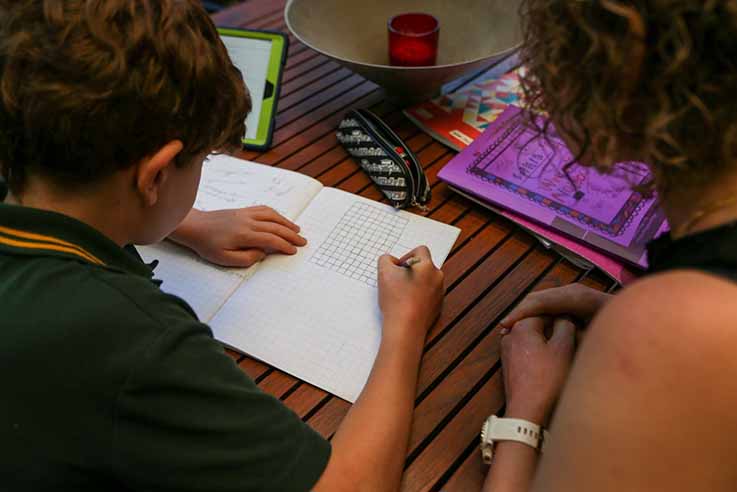 We are not teachers. We do not have the knowledge to explain the work to the children. … We did our best but it took a lot out of us.
I have three kids at home and work from home. I can set one up with an activity, start with the second, need to check in with work, finalise the second child, direct the third, more work and by then the first has finished and everyone is ready for a break. Online learning can be great but it's not easy for kids to learn from a screen.
More details about this survey
The Smith Family Pulse Survey was focused on gathering insights directly from parents and carers about how the pandemic has impacted their child's school experience. It was open to parents whose children are currently supported through The Smith Family's Learning for Life education support program, which provides emotional, practical, and financial support to children and young people experiencing disadvantage.
The survey was conducted between 1-14 March 2022 and there was a total of 1,164 respondents.