iTrack helped Meseret build aspirations for the future
"My future [plan] is to attend university and become a nurse," Learning for Life Student, Meseret
Meseret was just 11 when she and her family arrived in Australia from Sudan, where they had been living as refugees with no access to education. Now, at 17, Meseret is fluent in English and working hard at school. Yet without anyone to guide her on career pathways in Australia, she was unsure about the next steps for her future.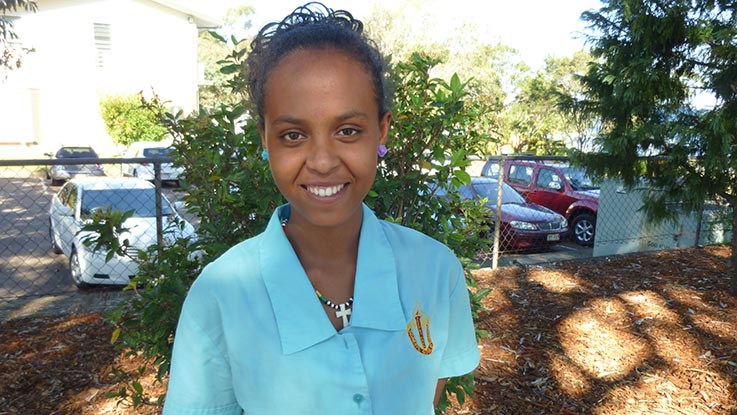 I would like to tell [supporters] that iTrack is a really nice program. I like chatting to my mentor because she tells me about her experiences,
For the past two years, Meseret has been taking part in our online mentoring program iTrack. Through weekly online chat sessions, the 19-week program connects students in Years 9–11 to trained volunteer adult mentors who provide guidance about workplace, study and career opportunities.
Being able to speak with another adult who would listen to her unique challenges and could advise her about career pathways in Australia, gave Meseret access to a new perspective. The guidance helped her build aspirations and outline the steps required to achieve them. Now with clear goals, Meseret feels empowered and excited about the future.
Meseret's Learning for Life Program Coordinator, Emily has proudly watched her confidence and knowledge increase as a result of participating in iTrack.
"Meseret worked with her iTrack mentor to discuss her post-school plans and potential study pathways to achieve her career ambition of becoming a nurse."
In 2018-19, 89% of participating students reported being confident that they can achieve their career goals and 85% said that their mentor helped them understand more about how they can reach their career goals .
If you're interested in becoming a volunteer for The Smith Family iTrack program, please click on the link for further information and current opportunities.
My new life in Australia means that I am getting an education and that I am learning English. My future [plan] is to attend university and become a nurse and... to help people who are in need in refugee camps,