Melanie's first high school report
Mel's dancing in the showcase at school and she needs a t-shirt and a jacket. That's $50. And she's playing the keyboard. No lessons. She just gets it off the internet. I bought her a couple of music books.
Sponsorship has also helped Judy to create a better future for herself and Melanie. With years of cleaning homes taking a toll on her body, 52-year-old Judy went back to study aged care. Cutting down her work hours was only possible because of Melanie's sponsorship and Judy is thriving in her new role.

"I'm enjoying it very much. I'm loving the ongoing education with it as well. I'm doing dementia at the moment. Mel has settled in with me working. She takes on a little bit more responsibility now," says Judy.

Melanie is inspired by her mum's commitment to lifelong learning. Many teenagers are reluctant to help out around the house, but Melanie and her mum work together as a team.
I think her school work is improving because of the reading that she's doing with her student2student reading buddy, Edward. He is brilliant. Her reading and her spelling have picked up so much,
As school captain in Year 6, Melanie had always been engaged in her schooling. But she struggled with her reading skills and it was holding her back.
After taking part in our reading program student2student during Year 6 and again this year, Melanie feels empowered to reach her potential. student2student pairs students with poor reading skills with a trained reading buddy, who they read to over the phone two to three times a week.
"student2student works really well. I wasn't really a confident reader before that," says Melanie.
"They choose different books for you and they have all different words in them. It helps with spelling a lot. It makes it easier when you can use big long words to make your assignments sound really good."
Melanie also has a Smith Family sponsor. The financial assistance has meant that even with the increased education costs of high school, Melanie hasn't missed out on anything.

"The sponsorship helps us out a lot. That money goes towards Melanie's education. If there's anything left over, I set it aside in an envelope or a pot. When something comes up that she needs, I know I've got a little bit of money there to buy it," says Judy.

Receiving sponsorship is giving Melanie the opportunity to learn new things through extra-curricular activities. She's looking forward to joining her friends on stage in the school showcase.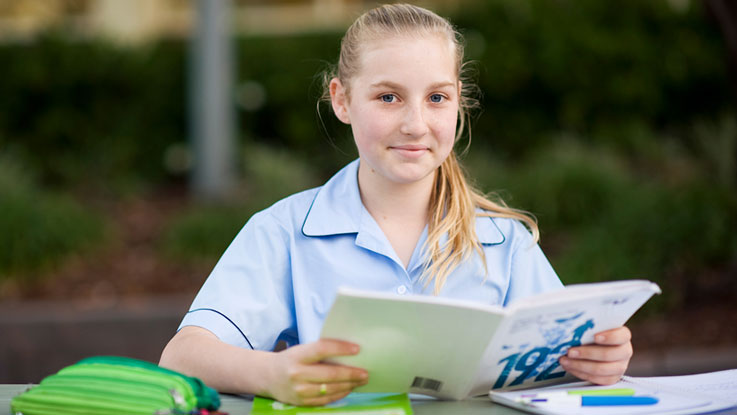 Having emotional support from their Learning for Life Program Coordinator, Kim, has made a huge difference in a year with so many changes.

"Kim does an amazing job with Mel. Mel loves chatting with her. So do I. I've had a couple of little issues that I've had a chat to her about. I felt so much better afterwards," says Judy.

With the ongoing holistic support of sponsorship, learning programs and a Learning for Life Program Coordinator, Melanie and Judy feel empowered, ready to take on new challenges and change their future for the better. And after 12 months of sharing their lives with us, they have a heartfelt message for all of our generous supporters.

"Without The Smith Family I would never have been able to do for Mel what she has been able to achieve. It's for your children, to better them and give them a good education," says Judy.

"We'd like to say a big thank you to The Smith Family—to all the supporters and staff who help us out. You do a great job."

I leave Mel a list of things to do because I'm on afternoon shift. There's not one day that I come home and the jobs aren't done. And I've had a couple of little mummy love letters on my pillow, which is so lovely.
There was an air of nervous anticipation as Melanie and her mum opened Melanie's first high school mid-year report. Melanie had been working hard and was eager to see her efforts reflected in her grades. What they found inside was even greater than they'd hoped for.

"I got first in cooking and second in science. In science there are 48 kids in the entire Year 7. It felt very good. I kept screaming!" says Melanie.

Melanie's mum, Judy, could not have been more proud of Melanie's achievement.

"We got quite a surprise! And she got an A-/B+ for language. She's doing very well," says Judy.