Meet some Saints helping at Learning Club
If you peeked inside a community hall in Wollongong, you might see a group of athletes patiently helping students with their tough homework questions.

Their day job is to play professional rugby league for the St George Illawarra NRL Club. And for almost a decade, they've dedicated hours after school to helping students living in disadvantage catch up and keep up in class. The players are heroes to many of these students in this Illawarra community. As role models they can have a lifelong influence on the students' confidence and aspirations.
Adam Bezzina, Dragons Community Manager, says players do it for many reasons. It could be their own childhood experience of poverty. It might be a simple desire to give back. Or even an interest in working with young people after their NRL careers finish.
The club is also committed to working with the Aboriginal and Torres Strait Islander families in this community.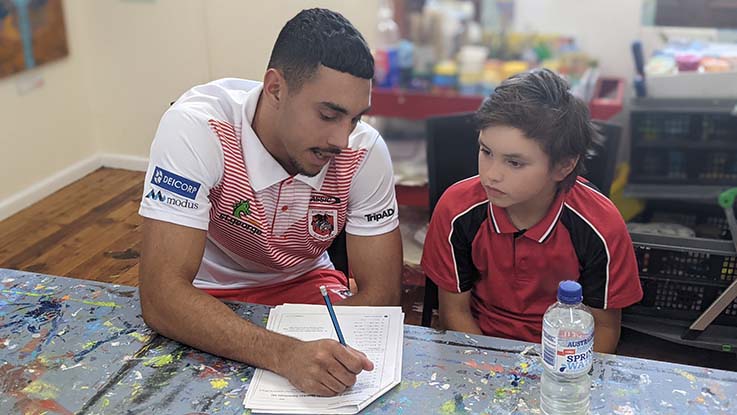 "We understand and believe that reconciliation is everyone's business, and we will lead through our actions," Adam says.
Ultimately, St George players and staff who volunteer at Learning Club are there because it feels good to do good.
"It's an opportunity to assist in the local community and provide a positive experience for children who at times might be having a tough day," Adam says.

"On the flip side helping at Learning Club provides escape from the day-to-day NRL pressures. Helping a student read, encouraging them to eat a healthy snack or passing a ball can help players keep a healthy perspective on their good fortunes as footballers."

Thank you to our sponsors for making Learning Clubs possible. It's only because of our sponsors, donors and volunteers, that our students can get the homework help they need in a safe, secure space. They also get the chance to participate in inspiring initiatives like this decade-long partnership with the St George Illawarra Dragons.