Zeke discovers his talent for writing
From an early age, Zeke had a flair for creativity. He made his parents laugh and had a unique way of seeing the world. Yet simple things, like mealtimes, were emotional minefields. Once he started school, his outbursts got worse and soon affected his learning. After seeking help, the family found out that Zeke had autism.
Zeke's mum, Corrina, could see the potential in her son. And she was convinced that reading was the key to unlocking it.
"He doesn't learn the way an average kid would, because of his attention span. It's hard for him to take in information through someone talking to him. It's a lot easier for him if he sees something, or if he can read it and picture it himself.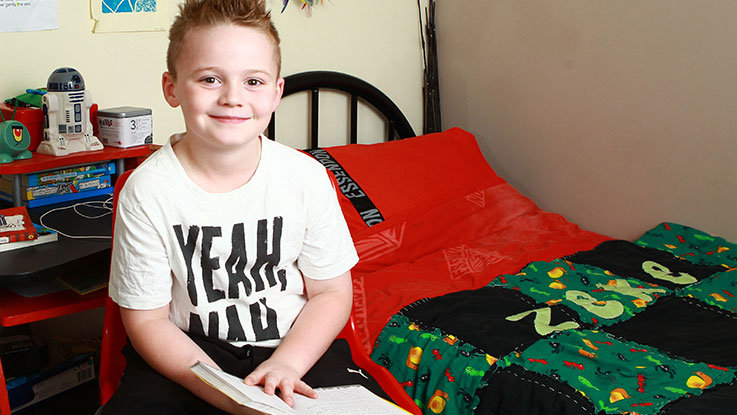 Student2student was so perfect for Zeke because then he didn't see reading as a chore. He saw it as fun. It was exciting. He got to talk to this older kid, and that was cool.
"I knew that once he could read, there would be no stopping him. But because of the barrier with his reading, he couldn't get into it."
The added stress was a blow for the struggling family. Zeke's dad couldn't work due to a mental health condition and when Corrina unexpectedly fell pregnant with twins, she too had to stop working. Corrina wasn't going to let other pressures get in the way of Zeke's learning. She set aside reading time at home for Zeke. But stumbling on words would send him into emotional distress.
As a Champion, you are there for children like Zeke. Your generosity makes our 18-week student2student reading program possible. It's where younger students read over the phone to an older student reading buddy. Having a buddy made Zeke feel special and it changed everything.
"Zeke wouldn't yell and scream and have a tantrum in front of his buddy. I was really proud of him, of how he would find ways to cope and continue," said Corrina.
"It was really fun and I learnt lots of things. [On reading days] I was really excited. I loved it because I love books.
"Now all I think is, 'I wonder what book I'm getting next.' I'm like, come on, let's give me some bigger books!"
Reading has become Zeke's sanctuary. He loves going on adventures with 'Captain Underpants'. And Corrina says the books you help provide through student2student make a real impact.
"Zeke was on quite a low reading level initially. He had a lot of trouble with the bigger words and he would just skip them. He wouldn't even try," said Corrina.
"During student2student his reading jumped up really quickly. The books were actually funny. I think that was what started his proper interest in reading.
"He has ended up obsessed with reading. He reads absolutely everything now. He hounds the library lady all the time when there are new books coming out."
Your support hasn't just helped Zeke to read. It has also opened new ways for him to express himself. Now he writes his own stories and they have made him a real hit with his class mates.
He can even write stories now as well. They're really good stories! His vocabulary is amazing too. It's huge because of the reading,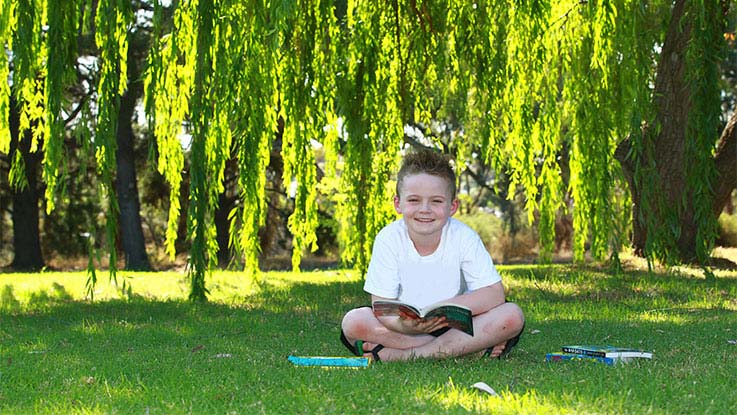 "Student2student also improved his confidence. He has a great imagination and he's really outgoing. So being able to write these cool stories – his mates think they're great."
With your ongoing support, Zeke has an exciting future ahead of him and Corrina couldn't be more thankful.
"My kids have got really great personalities and I feel like they could change the world, make a difference. But they need to have that education, to get their foot in the door. It's extremely important," said Corrina.
"I want to say how grateful I am for everything that The Smith Family supporters have done for Zeke. He's a great little kid!"