Former Learning for Life student gives back
"My family came to Australia in 1992 … El Salvador at the time was in the middle of civil war. We literally came with what we could carry on the plane and that's pretty much it," said Erick.
It was a long time ago, yet Erick still remembers feeling alienated at school because he didn't have the proper school uniform. It was all he could think about and it ruined his concentration in class.
"I remember my pants were a different shade of blue. I walked into the school and that was the first thing some kid pointed out. It was absolutely a horrible experience," said Erick.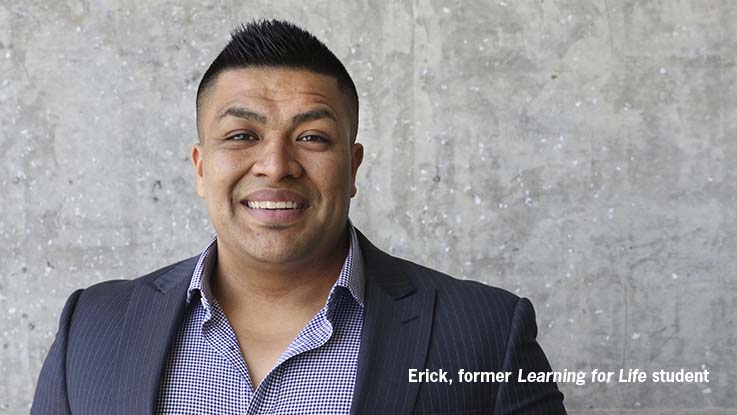 I got [the right uniform]. I went to school and it was just the best feeling.
"[As a child] you think that everyone is thinking about you 24/7 … So you sit in class crossing your legs or covering your pants. The teacher is talking about this and that, but all you're thinking about is the pants … It definitely does affect your education."
Sponsorship meant Erick could get the essentials for school, including a uniform. Without the stress of feeling different, he was able to focus more on learning.
"I got [the right uniform]. I went to school and it was just the best feeling," said Erick.
Erick now now works for training company, Leadership Management Australia, and has a son of his own. But he's never forgotten how The Smith Family helped him. So Erick gives back by volunteering as a mentor for disadvantaged students through our online mentoring program iTrack.
He's passionate about 'paying it forward' and inspiring young people facing challenges similar to those he experienced at the same age.
"I always try to give them hope that 'hey man, it gets better, it improves, life is what you want to make it."
Have you thought about becoming a volunteer? Read about our current volunteer opportunities.
Everything that I do is based around what I've learned from The Smith Family and how I want to give back.