Safeer is beating language barriers through Learning Club
Changing schools is a big deal for any child. Safeer was only eight years old when he did this in a new country with a different language. He suddenly found himself behind at school.
"Our lives and home were at risk in Pakistan, so we moved to Australia where we could be safe. In Pakistan my dad was a doctor but his qualifications are not recognised here. This has impacted our family financially," said Safeer.
"I didn't know that much English and had to learn quickly for school."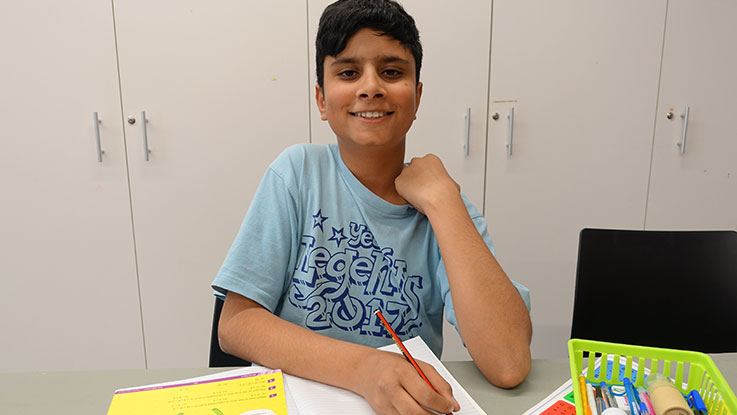 When I finish school, I want to be a building engineer or architect. I know I need to be good at maths to be an architect, so I do lots of maths at Learning Club.
Safeer needed urgent financial and learning support to give him a fair chance at school. We matched him with a sponsor who provided financial support for the school essentials, like uniforms. The ongoing generosity of Champions like you meant Safeer received immediate support through our learning programs.
At our Learning Club, Safeer gets help with his homework outside of school from trained volunteer tutors. He also practises reading with an older student reading buddy through our student2student reading program.
"The Smith Family helps me in many ways," said Safeer.
"I've also been doing student2student for two years now. It helps a lot. At the start of last year, I was reading little picture books, but now I am reading novels!"
Safeer's Learning for Life Coordinator regularly checks on him and keeps the family across other learning opportunities. With so much support, Safeer started high school this year feeling confident about what he can achieve.
"I know the support is helping me to get there. My family and I are really grateful for all the help you are giving me to have the best education possible," said Safeer.