Children in Australia's most disadvantaged communities start school already behind.
Children who start school behind in maths generally stay behind.
Numeracy is a foundation skill for successful participation in our society – individuals need it for budgeting, taking medication and employment. The STEM disciplines – science, technology, engineering, and mathematics - are key underpinnings for the future of innovative economies, with an increased global reliance on these knowledge areas.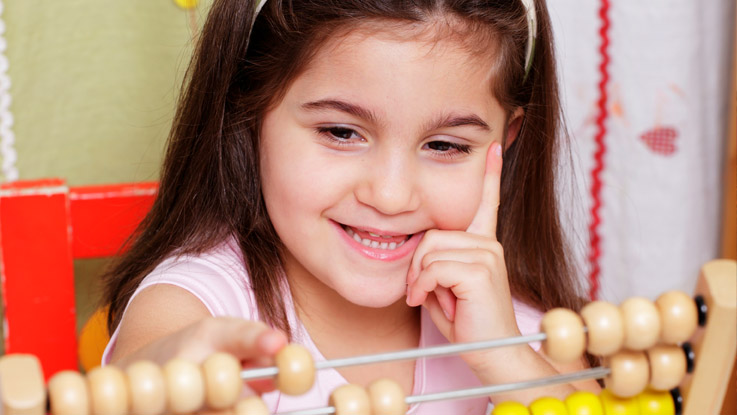 Let's Count is an early mathematics program for children aged three to five, developed by The Smith Family and Professor Bob Perry from Charles Sturt University and Associate Professor Ann Gervasoni from Monash University.
The program supports parents and early years educators to develop the maths skills of the children in their care by noticing, exploring, and talking about numbers, counting, measurement and patterns in their daily lives.
How does Let's Count help?
Let's Count supports parents and early childhood educators to have the skills and confidence so they can develop the maths skills of the children in their care. The program emphasizes maths in the everyday, and helps children to see maths as relevant, stimulating and fun, which sets them up for future success.
"I wish that everybody had the opportunity to do Let's Count, because I've just seen such big improvement in the children's concepts of maths and preparing them for school net year..." - Let's Count Educator
"…it was a nice reminder, just how simple maths things can be at home and uncomplicated and immediate in your environment around you." - Let's Count Parent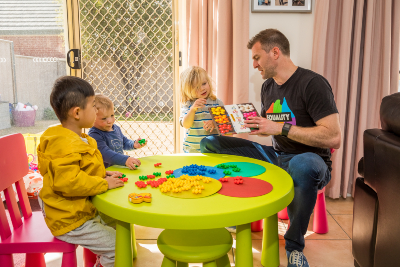 For Early Years Professionals
Our award winning program supports your professional development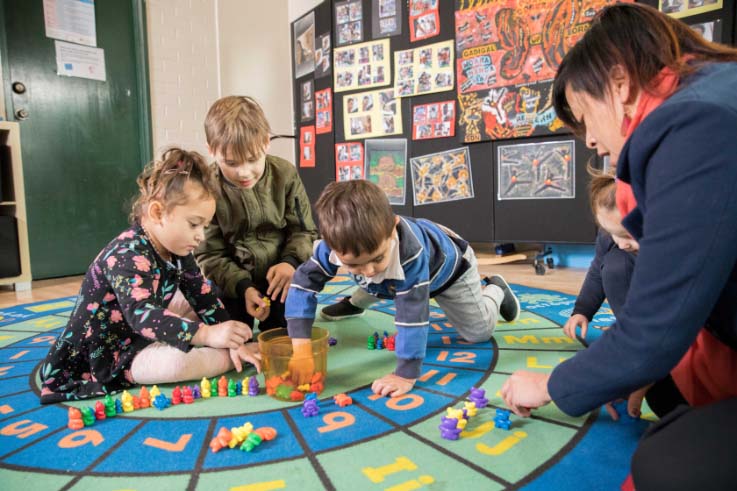 Our award winning program supports your professional development
Let's Count is a practical and tangible professional development opportunity for Early Years Professionals available via face to face workshops or via our online learning portal.

Since its launch in 2009, Let's Count has positively impacted over 168,000 children, parents and Early Years Professionals throughout Australia. To underpin its credibility, the program aligns with the Early Years Learning Framework and meets National Quality Standard requirements.


Download the Let's Count Facebook Messenger bot resources for Early Years Professionals below
Let's Count opened my eyes and mind to how easy and available numeracy ideas and resources are in our everyday.
Online Learning
In 2019, Let's Count Online was awarded Silver for Best eLearning Design in the category of Free eLearning Resources by LearnX. It is practical, tangible and fun consisting of two self-guided online modules that can be completed in your own time and at your own pace.
Face to Face Workshops
The face to face workshops involve two full days of training.

For for more information and to register for our face to face workshops please write to letscountprogram@thesmithfamily.com.au.
The Let's Count Facebook Messenger bot is an interactive platform that uses everyday activities and objects to suggest ways in which parents and carers can support their children's math's learning, like counting the change and weighing the fruit whilst out shopping.

The activities are all designed to help children to notice, explore and talk about mathematics.

Supported by funding from BOQ and the Department of Education, Skills and Employment under the National Innovation and Science Agenda.
It was simple, not confusing and I loved the activities. It gave me the confidence in helping my child with maths.
Let's Count Literature Review
Let's Count Revision 2020-2021 : Literature Review and Snapshot
In 2020-2021, with the support the Ian Potter Foundation and Equity Trustees – James Raymond Hartley Charitable Trust, we embarked on a journey to review our early numeracy program, Let's Count.
Together with our key stakeholders we reviewed the latest research and developments in early years learning and early years maths learning and Indigenous Knowledge with the aim to ensure that Let's Count includes the latest learnings, making them inherent in the program as well as making Let's Count appropriate for all cultural backgrounds.

Part of this work included this Literature Review and it's subsequent recommendations written by Peridot Education with Appendices from the Stronger Smarter Institute.
Download the quick Literature Review Snapshot
Let's Count Program Design Review
A video interview showcasing the Let's Count Program design review process which took place in 2021/22 from the perspective of the key stakeholders; The Smith Family, Stronger Smarter Institute and Peridot Education Consultants.
The Smith Family was able to undertake this project thanks to philanthropic funding from The Ian Potter Foundation and Equity Trustees - James Raymond Hartley Charitable Trust. We are so grateful to our supporters for seeing the importance of this work and so generously supporting it.

The Origin Foundation supported The Smith Family to expand the program through a four year partnership (2011-2015) valued at $1.6 million.
Orica committed to supporting The Smith Family to expand and digitise our Let's Count program through a three year project (2017-2019). This allows us to optimise delivery and increase program availability via digital channels, thus increasing the program's reach, with a greater number of children benefiting from this program over time. Read more
BOQ supported The Smith Family to design and develop the Let's Count Facebook Messenger tool designed to help parents and carers to further engage with their children as they learn mathematics. This tool complements and enhances early numeracy engagement in children three to five years – supporting Australian children in need to get the best start in life, to help them break the cycle of disadvantage and thrive in the 21st century.